Share This Guide
The dust and dirt that gets into your home from construction sites or from a home renovation can be a nightmare for homeowners. The good news is that there are some really good air purifiers on the market that will help you keep your home clean and safe.
In general, air purifiers will remove construction dust that is suspended in the air. Remember, particles that are settled on surfaces can not be removed by air purifiers. Air Purifiers can only remove particles that are currently circulating in the air around it.
However, not all air purifiers can remove all types of construction dust and we'll be talking about this shortly in this guide.
With that in mind, some air purifiers can even remove respirable size particles such as:
Tobacco
Smoke particles
Radon
When your house is undergoing renovations or construction, there is usually a lot of construction dust that consists of fumes and particulate matter. That's why you need a drywall dust vac along with an air purifier with a filter capable of removing particulate matter and airborne dust in their filters.
Types Of Dust That Comes From Construction Sites
Silica dust mainly comes from materials that contain silica. These include sandstone and concrete.
Wood dust is mainly produced when working with wood. Wood dust can also be produced from already-made products such as fiberboard and plywood.
Other sources of construction dust may include materials such as:
Limestone
gypsum
dolomite
mable
Can Construction Dust Make You sick?
Exposure to construction dust can make you sick. Construction dust may contain crystalline silica which if inhaled, can cause silicosis. Silicosis is a life-changing lung disease that can even cause death. Other health complications that can be caused by inhaling construction dust include the following.
Lung cancer
Silicosis
Chronic obstructive pulmonary disease (COPD)
Asthma
Tips on how to reduce construction dust from the air
There are a few things you can do to reduce construction dust in your working environment or home. These are outlined below: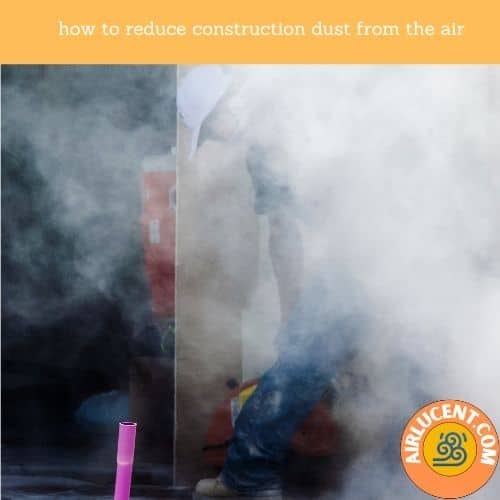 Water suppression technique. This is an old traditional method for reducing dust at any construction site. This technique works by first applying water to the material during the construction activity at different levels.
By using the On-tool extraction method: There are a few self-exhaust ventilation tools that you can use to help suck up the construction dust as soon as it is produced. These are fitted directly on the tool to suck the dust that is created at the construction site.
Air purifiers: Air filters reduce impurities in the air with the help of recirculating filtered air. They will remove the construction dust that wasn't caught by the exhaust ventilation method or by the water suppression technique. They will reduce the amount of construction dust in the air more effectively than any other method.
The first two tips when applied correctly can help prevent a significant amount of dust at the construction site or during a home renovation. However, you are not guaranteed that construction dust will be completely removed. That is why you'll need an air purifier with a special filter that is cable of filtering or kinds of dust.
Here is a list of air purifiers that I recommend (and use) to specifically remove construction dust.
3 Best Air Purifiers For Filtering Construction Dust
Brondell O2 Air Purifier
Sale
If you are considering getting yourself an air purifier that will completely filter out construction dust, we recommend the Brondell O2 Air Purifier. Besides air filtration, this air purifier also comes with a humidifier that you can use to apply moisture to the filtered air. Moisture in the filtered air can help relieve allergy symptoms and can reduce asthma symptoms by clearing mucus from the airways.
Besides that, it is equipped with True HEPA filters that remove over 99% of particulates and microns larger than 0.03 microns.
These air purifiers will remove various kinds of particulates including the following:
Construction dust and any other dust
Smoke
Pollen
Dander
 It should also be mentioned that its activated carbon filter traps and removes odors and harmful gasses.
Alen BreatheSmart Classic
Sale
Alen BreatheSmart Classic HEPA Air Purifier with Pure Filter, Captures Allergens, Dust, Mold, Germs. Household Essential for Living rooms, Open Concept Rooms, and other large rooms, up to 1,100 sq. ft
H13 HEPA PURE FILTER: Our most popular filter for eliminating everyday allergens and pollution from your air. The H13 HEPA Pure filter captures 99.9% of dust, allergens, and harmful fine pollutants as small as 0.1 micron so you can breathe easy. This filter is ideal for everyday home purification, allergy and asthma sufferers, and virus concerns.
VALUE MEETS POWER: The BreatheSmart Classic delivers powerful filtration and outstanding performance to large spaces for a fraction of the price.
Now if you need something to filter the air in a large classroom, you might want to consider the Alen BreathSmart Classic. This small machine is equipped with a Medical Grade H13 True HEPA layer that captures 
Dust /Construction dust
99.99% bacteria
Aerosolized viruses
Airborne particles larger than 0.1 micron.
True HEPA filters are among the most advanced air filters on the market and will last 3-5 months longer than standard filters.
Another advantage of this purifier is that you can leave it unattended. With its smart sensor feature, it will automatically adjust the speed of the purifier depending on the quality of the air. (this feature on this air purifier will also help you have the energy)
Besides all that, this is a versatile small machine that can be used for different applications ranging from
Preparations for classrooms,
Doctor's offices
Hotels
Casinos
Bars
Lounges
Restaurants, and most importantly your home
AZEUS True HEPA Air Purifier
Sale
The Azeus model is another great Air purifier that you will find useful in removing construction dust. It features 5 stage filtration process and will filter out > 99.9% of all sorts of dust, pollen, smoke, pet dander, and other particles as small as 0.3 microns which can also improve your overall health
This is perfect for pet owners, babies, children, the elderly, and anyone who wants to improve the air quality in their home.
Other great features on this air purifier include the smart air quality sensor which senses the quality of your indoor air and adjusts the fan speed accordingly. This feature can help save energy costs.
---
How do air purifiers filter construction dust?
Construction dust particles float in the air before they finally settle on different surfaces. But dust does not immediately settle down meaning there will still be many more particles suspended in the air for a long time.
That is where air purifiers come in. They suck the suspended particles in the air and circulate back the filtered air into the room, making it pleasant to breathe and also making the air safer for people with allergies.
However, an air purifier will not remove dust that is already settled on the surface. You'll need to use other means to get rid of settled dust.
What to look for in air purifiers for construction dust
Purpose: This is the first thing you have to keep in mind. . Different purifiers work differently. For example, some filters target dust control while others focus on gases.
Filters: Consider the number of types of filters an air cleaner works with. Some purifiers, for example, don't have the activated carbon filter which is essential for removing odors and VOCC as well
CADR: Clean air delivery rate. It indicates the volume of filtered air an air purifier delivers. The higher the value, the larger the space can be.
FAN speed: Go for an air purifier with variable speeds. This can help you with the noise levels. For example at night when you want to sleep, you can set the speed to low which is quieter.
Tips for removing construction dust from your home
Try opening windows and doors after any renovation work is carried out. This allows fresh air to come in and construction dust to leave.
Avoid sweeping away sitting dust on surfaces. Doing it will just push it back into the air and can cause more harm, if possible try using a vacuum cleaner.
Explore the potential of introducing air cleaners that can be attached to your furnace or air-conditioning unit. This method will allow dust to be removed from several rooms at once.
One of the most effective methods is to use an air purifier that is specifically designed to remove construction dust.
In addition to that, there are still a few things you can do to keep construction dust from entering your home or office.
Tips for preventing dust from entering your home or office
Clean carpets, furniture and rugs regularly.
Sweep rooms or vacuum spaces often
If you have allergies, consider replacing carpets with hardwood flooring
Bath pets when you can. Pets can give off dander so if you are allegiance to dander just avoid sleeping with pets.
Try replacing HVAC filters at least 2-3 months
These tips when applied correctly can help prevent a significant amount of dust from entering your home. However, you are not guaranteed that construction dust will not enter your home. That is why you'll just need an air purifier with a special filter that is cable of filtering or kinds of dust.
FAQ's
What is the difference between an air purifier and an air scrubber?
Air purifiers and air scrubbers are both designed to improve the quality of air. But how do these two types of machines differ from each other?
Air purifiers are designed to clean the air by a process that involves sucking in the air and passing it over a filter before recirculating it into the room whereas air scrubbers are designed to send negative ions to attach to particles on walls and surfaces.
Final Thoughts
In a nutshell, air purifiers do remove construction dust and will get rid of any other type of dust. In addition, they are able to remove more than just dust, they can remove some bacteria and viruses, and keep us safe from airborne infections.

HVAC tech with over 30 years of experience. Retired and doing repair work on the side around Madison County, AL.
Share This Guide