Share This Guide
If you work in the construction industry or do your own DIY remodeling jobs at home – regularly working with drywall panels, then you know a shop vac is very important to maintain great air quality indoors. But, what's the best shop vac for drywall dust?
When shopping for a good shop vac for cleaning drywall dust, you want to look for powerful suction, a high-performance motor, great airflow, possibly an extra-long cord, and a big enough tank. A shop vac that does not stir up dust in the air is the best pick.
Best Shop Vac for Drywall Dust
After extensive reviews, testing and research, I concluded that the best shop vac for drywall dust is the Dustless D1603 shop vac for its powerful suction, fine 3-stage dust filter, and great airflow.
Here's a comparison table of the top 3 shop vac alternatives for cleaning drywall dust:
Vacuum Image
Name
Features
Rating
Check Price

130.9 CFM/103.6 water lift
Made specifically for drywall + construction dust
3-stage air filter for dust containment
99.97% cleaning efficiency

Vacmaster Professional – Wet/Dry Vac

150 CFM suction power
Has a fine dust cartridge filter
Has dust containment bags
Great for both tiny and big particles.

Milwaukee 0880-20 Cordless Wet/Dry Vac

45 CU ft per min airflow.
Has a HEPA filter
32-inch sealed suction power.
5-year warranty
Top 7 Shop Vacs for Drywall Dust (My Reviews)
Here are my reviews of the best-performing vacuums for cleaning drywall dust safely:
1. Dustless Wet-Dry Vacuum D1603
Powerful suction – 103.6 water lift
Great airflow – 130.9 CFM
99.97% efficient cleaning of particles as small as 0.5 microns.
Better dust containment with 3 filters
Specially made for cleaning drywall and other construction dirt.
On top of our list, the Dustless D1603 is the very best shop vac for drywall dust because of its top-class suction power, great airflow, and powerful motor. Here are the specifications that make me rate this shop vac highly effective for drywall dust cleaning.
| | |
| --- | --- |
| Feature | Specification |
| Suction power | 103.60 |
| Air flow | 130.9 CFM |
| Capacity | 40 pounds of dust |
| Reach | 12 ft |
In my review, this product by Dustless Technologies exceeded expectations in terms of suction power, usability, and efficiency. Since drywall dust is about 3 microns, the Dustless D1603 shop vac outperformed other vacuum cleaners by cleaning so thoroughly that you wouldn't know there was any dust at all in the garage.
The manufacturer lists drywall dust as part of the dirt recommended for cleaning with the Dustless D1603.
This shop vac does a great job containing dust due to the 3-stage filtration system. There's no way dust escapes back into the air when cleaning drywall dust with this Dustless D1603 shop vac.
What I like most about this shop vac is that there's a balance between airflow and suction power, which is hard to find in most shop vacs.
Overall, it is the best shop vac for cleaning drywall dust and other construction-related dirt.
2. Vacmaster Professional Wet/Dry Vac
The Vacmaster Professional VJH1612PF0201 is the best vacuum for drywall dust, top on my list because of the following:
Powerful suction and air lift balance (150 CFM, 64-inch)
Has a fine dust cartridge filter
Uses bags for better dust containment
Cleans up fine dust as well as larger debris
Here are the important features of the Vacmaster VJH1612PF0201 vacuum:
| | |
| --- | --- |
| Feature | Specification |
| Suction power | 64 |
| Airflow | 150 CFM |
| Capacity | 16 gallon |
| Reach | 27 ft |
| Motor | 120 watt |
Apart from a large tank capacity and a long, 20ft cord, Vacmaster Professional Wet/Dry Vac performs excellently when used for cleaning drywall dust because of the fine dust cartridge filter and the powerful suction.
This is one of the primary reasons why I used it instead of the standard shop vacs, and in my review of this vacuum cleaner, I noticed that it does not stir drywall dust into the air. The dust containment is great while the detailing is satisfactory.
The motor on this product is also powerful enough (120 watts) to generate enough power to clean up really easily; no strain at all when cleaning up drywall dust messes.
On-board accessory storage is a plus, though not a deal-breaker for me. It just makes it easy to use your accessories whenever you need them for your clean-up tasks.
The overall feel of the Vacmaster Professional VJH1612PF0201 is that it is sturdy enough to be durable. The tank is made of polyurethane and rugged enough to be used even on construction sites.
On the downside, in my review, I noted that while the Vacmaster Professional VJH1612PF0201 is great for dust collection, it doesn't do so well for water clean-up jobs. Yes, it is a wet/dry vacuum, but that water lift power is a little bit weak for cleaning up wet messes in the garage or construction sites. It struggles a bit.
Verdict: For cleaning drywall and other construction dust, the Vacmaster Professional VJH1612PF0201 is excellent and effective. I would recommend it.
3. Craftsman CMXEVBE17595 Wet/Dry Shop Vac
Great suction power and airflow balance
Vent-port filter prevents drywall dust from escaping
Comes with versatile accessories
Can also be used to clean leaves and water spills
| | |
| --- | --- |
| Feature | Specification |
| Suction power | 47 |
| Air flow | 177 CFM |
| Capacity | 16 gallon |
| Reach | 7 ft |
| Motor | 6.5 HP |
If you're looking at large clean-up jobs in the garage or renovation sites, the Craftsman CMXEVBE17595 shop vac is powerful enough to make the cleaning effortless.
The 6.5 HP motor makes the vacuum powerful enough, and the strong suction ensures that you clean even the small drywall dust particles with ease. I actually tested the suction and found that it is so powerful that the cleaning head can easily stick on some materials on the floor, especially if they have rubber in them.
The hose is very flexible and resists damage easily, thanks to the dual flex technology it's built with.
The accessories included on the CRAFTSMAN CMXEVBE17595 Wet/Dry Vac include a car nozzle, utility nozzle, wet nozzle, and a wide-enough 2-1/2-inch hose.
The one shortcoming with this shop vac is that the hose is a little shorter than I would have liked. Measuring just 7 feet, the hose makes it difficult to reach into some corners that require a long hose to clean. However, the 20ft electric cord helps a bit with this problem, but I still find it hectic to move around the shop vac (weighing 26.6 lbs) a little too much to clean up drywall dust and other debris.
4. Milwaukee 0880-20 Cordless Wet/Dry Vacuum
Being a toolbox-style vacuum, this vacuum is great, especially for construction workers and guys who like to remodel their homes on a DIY and probably like collecting their own tools.
Here are the reasons why I like this shop vac for drywall dust applications: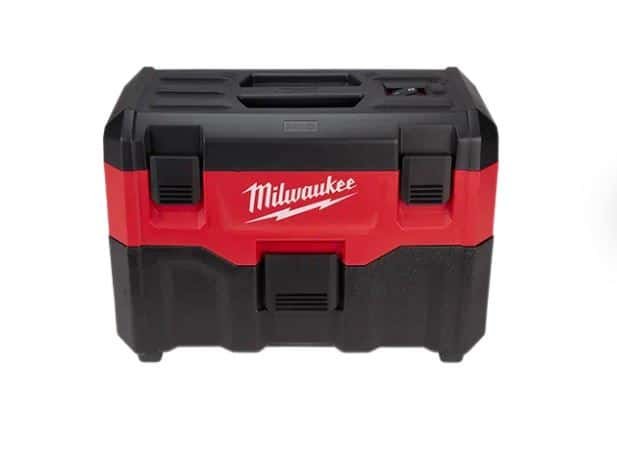 Contains a washable HEPA filter
Portable with on-board storage for accessories
Battery-powered option
30+ minutes of cleaning on the batteries
If you're looking for a cordless shop vac for small clean-up tasks, I would highly recommend the Milwaukee 0880-20 wet/dry vacuum because that is what it is suited for. I wouldn't recommend it for heavy-duty or large-project drywall dust clean-up.
With a 32-inch water lift suction power and a 45 CFM, you get proper performance from this balance of suction and airflow.
You get a great 5-year warranty on the Milwaukee 0880-20 (tools included), and I think this comes down to the sturdiness of this shop vac. The material is tough and will give you confidence working with it even in rugged and risky areas on any construction site.
My review and Verdict: I'd recommend the Milwaukee 0880-20 HEPA vacuum for cleaning drywall dust if you prefer a highly portable machine – being that it is cordless and battery-powered.
The whole unit is very light and I like that it's rectangular in shape and that you can store stuff on top of it. It's flat you could store stuff on top, and it won't hit the power button by mistake, which is a good design there.
I also like the fact that everything is contained inside the lid that you can just pop it open and you'll be ready to use it.
However, the Milwaukee 0880-20 unit is not for heavy use. It is best suited for light use only. I don't think it's convenient to try to use this with a sander unless maybe you're just doing a little small area of sanding drywall but even then just too much dust gets kicked up because this just doesn't have the power that other shop vacs have.
5. Shop-Vac 5989300 Stainless Steel Wet Dry Vacuum
Pros
Great airflow – 175 CFM
Highly maneuverable dolly at the top
Lightweight
Comes with a filter
Cons
The smaller 5-gallon unit does not have a tank drain
The reach is a limited to 2.1 meters
Limited power – 4.5HP maximum
Small accessory diameter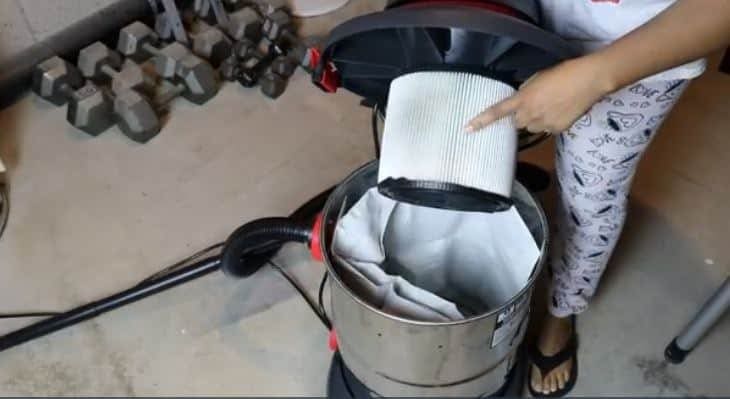 For another small-sized vacuum for drywall dust, the Shop-Vac 5989300 is a product I would recommend for small DIY projects as opposed to industrial cleaning.
It is lightweight (at 15 lbs), and does come with a powerful motor for such limited tasks. The build is sturdy and appears to be durable and the 3-year warranty should cover you pretty well.
In fact, the tank is made of stainless steel and the shop vac has a filter included in there, which makes for great drywall dust containment.
If you would like an industrial version of the same, there's the 16-gallon option – the Shop-Vac 5989700 – that you can go for, which has more powerful suction and airflow compared to the Shop-Vac 5989300.
6. Festool 574938 CT 48 E HEPA Dust Extractor
I don't own this unit yet, but I would highly recommend the Festool 574938 shop vac for industrial dust collection due to its features. Here's what I like about this shop vac:
Industrial cleaning sets and accessories included
HEPA filter included
Adjustable suction power
Agile design with big wheels
62 dB noise level – very quiet for a shop vac machine
137 CFM air flow
Apart from being able to pick up drywall dust easily, this vacuum/dust extractor can clean up large messes and debris due to its large (11.5-inch) hose.
The only downside to the Festool 574938 CT 48 E is the price. It is quite costly so you might want to get it only if you plan to use it for your cleaning business or if you are a remodeling expert.
7. Vacmaster Professional Beast Series VFB511B0201
Great suction power 82. 6-inch rating
Great airflow rating – 102 CFM
7-foot reach
Long power cord – 18ft
The Vacmaster Professional VFB511B0201 vacuum cleaner is the second unit on your list of good vacuums for drywall dust – and for a reason. While it can't perform like a true shop-vac, I found it to be great for lightweight Jobsite drywall dust vacuuming.
The power cord on this vacuum machine is long enough – measuring 18 feet – meaning your reach will be excellent if you have a workshop in your garage.
The Vacmaster Professional VFB511B0201 also converts into a blower, making it a great utility for your work, all over the garage or basement.
The 102 CFM airflow and 82. 6-inch ratings are good enough to produce powerful suction that can help get rid of drywall dust in your house.
The only disadvantage of the Vacmaster Professional VFB511B0201 vacuum is the low-horsepower rating (5.5 peak), which means it can easily overwork if you subject it to heavy usage.
Shop-Vac Features to Look For
Good shop vac for the job should have powerful suction, a big enough tank, but with a good price-feature balance. I've used different machines and so far I can recommend some that won't disappoint when it comes to cleaning drywall dust.
These features will be suitable for drywall dust cleaning, and just about any other cleaning job in your garage, working area, and remodeled house in general.
HEPA Filters
A HEPA filter will trap a wide range of very small particles that any other vacuum would otherwise kick up into the air, further contaminating your indoor air. The average size of a drywall dust particle is 3 microns. That is about 300 times smaller than the size of a human hair!
If you're working with drywall dust, then a HEP filter is something that's really important to consider. Good shop vac for drywall dust should have a HEPA filter indicated to trap even the smallest of these particles.
Pro tip: All HEPA filters have a MERV (Minimum Efficiency Reporting Value) rating, which is a score of the average size of dust particles they can filter out. To get the best shop vac for cleaning drywall dust, check for a MERV rating that falls in the range that captures drywall dust particles sized at least 3 microns at high efficiency.
| | | |
| --- | --- | --- |
| Shop-Vac rating | Dust Size () | Efficiency |
| 14 | 0.3 – 3.0 | 90%+ |
| 16 | 0.3 – 1.0 | 75% |
| 12 | 1.0 – 3.0 | 80% – 90% |
| 1-6 | 3.0 – 10.0 | < 20% – 49.9% |
| 8 | 3.0 – 10.0 | Upto 84.9% |
| 10 | 1.0 – 10.0 | 50% – 85% |
As you can see in the table above, any vacuum or shop vac with a HEPA filter with a low efficiency at capturing dust particles sized 3.0 microns will not be effective at cleaning and filtering drywall dust in your house.
Choose a shop vac with a higher MERV rating, as it can extract more dust and allergens than a low-MERV vacuum cleaner.
Suction power
Vacuum suction refers to its power measured in terms of water lift. The score is also termed the static pressure of the machine. While a higher suction power is great for collecting a lot of drywall dust from a construction site, you simply want to choose a machine that has a balance of suction power and airflow – measured in cubic feet per minute (CFM).
For effective cleaning of drywall dust, choose a shop vac with a high airflow rating as well as a high suction power.
A strong suction power starts at a rating of at least 80 while a good airflow rating is at least 125 CFM.
With such metrics and features, a good shop vac should be able to pick up even fine dust particles from drywall sanding without polluting your indoor air.
Power cord + hose length
If you've worked on some DIY drywall installation projects, you know that the dust spreads and settles just about everywhere in the house. Dust can settle in your bedroom, or even in the tight corners, making it difficult to reach and clean.
If this is a regular problem you're facing, consider looking at two important features to define the best drywall dust vacuum:
A long power cord
A long hose
I find that sometimes you have to compromise, so of the two, I'd advise you to compromise on the power cord and not the hose. You can buy a power extension cord as an accessory to improve reach and clean larger areas with your shop vac.
Tank capacity
If you're looking at industrial cleaning of drywall dust, the tank capacity of your shop vac is something worth considering. A bigger tank is definitely something I'd go for as opposed to a smaller tank for containment of the dust.
However, it is not that big a deal in terms of dust cleaning. The other features mentioned above are way too important to trade off for a bigger capacity.
Wet vs Dry shop vac
In my experience, a dry shop vac is great for drywall dust, but why not go for a more versatile tool like a wet/dry vacuum.
To be specific I like a shop vac that can switch between wet and dry vacuuming without the need to change filters. That's ideal but it is a bit difficult to find something that checks so many boxes with finer details like these.
The Dustless Tools HEPA Wet+Dry Shop Vacuum is one I would recommend as the best dry/wet shop vac for cleaning drywall dust. I like it because I am able to switch between wet and dry vacuuming without the need to switch filters.
References + Resources

HVAC tech with over 30 years of experience. Retired and doing repair work on the side around Madison County, AL.
Share This Guide