Share This Guide
Using activated charcoal is one of the best natural ways to purify the air in your house, remove toxins, and get rid of allergens such as mold. Placing purifier bags in your house can save you some money on powered air purifiers. But, do bamboo charcoal air purifying bags really work?
Bamboo charcoal packaged in linen bags works as an air purifier that removes allergens such as mold, bacteria, bad odors, and even excess humidity from indoor air. The bags can last up to 2 years, so they're a very cost-effective natural alternative to air purifiers.
If you see the thousands of Amazon reviews on activated bamboo charcoal bags, you'll quickly notice how effective these are at freshening the air in a room. I have done reviews on a few of the bags I've used (or tested) below, so be sure to check them out.
Do bamboo charcoal air purifier bags really work?
Bamboo charcoal air purifying bags work and can get rid of odors, some dust particles, mold spores, and even cigarette smells. The bags are more effective than regular activated charcoal because bamboo charcoal a much larger surface area for absorbing impurities.
Here are the qualities that make bamboo charcoal effective as a natural air purifier:
Activated bamboo charcoal has 10 times the surface area of regular charcoal.
It is 4 times more capacity to absorb odors, allergens, and other impurities
The structure of bamboo charcoal is highly porous and can absorb many types of toxins including ammonia and formaldehyde.
How does a bamboo charcoal purifier work
The porosity of charcoal creates a surface area that traps pollutant particles as air flows over it. This is why there are even charcoal water purifiers that work really well.
Charcoal removes toxins and pollutants from the air through a process called adsorption. Adsorption is the process by which a solid absorbs liquids, gas, or solute in a condensed layer, in this case, common household pollutants such as mold and unpleasant odors.
The way charcoal bags work to purify the air is different from purifiers that absorb impurities. Charcoal traps pollutants on the surface as dirty air passes over it, allowing clean air to circulate in the house.
Here are the differences between regular charcoal and bamboo charcoal in purifying air:
| | |
| --- | --- |
| Regular charcoal | Bamboo charcoal |
| Has a lower surface area for adsorption | Has 10 times more surface area for adsorption. |
| Slower at cleaning and purifying air | Much faster at cleaning indoor air |
Note: A single gram of activated carbon has approximately 10,000 square feet of internal surface area. That's why it is used in some air purification filters and chemical air purifiers.
A 1lb bag of activated charcoal, therefore, has a surface area equivalent to about 125 acres, which makes it a massive air purifier capable of adsorbing a lot of impurities from indoor air.
Bamboo charcoal is preferred for making air purifier bags because when activated, it has an even bigger surface area per gram, meaning that it is more potent than regular charcoal at cleaning the air, removing excess humidity in the house, and getting rid of airborne toxins.
Best Bamboo Charcoal Air Purifier Bags (Reviews)
Air purifiers are great. Brands like Levoit have amazing reviews for their ingenious air purification products, but instead of using one of their models, you can find a cheaper and more natural alternative inactivated bamboo charcoal air purifying bags.
I tested some of these bags for different tasks – removing shoe odor, dehumidifying a room, clearing dust, and getting rid of mold spores, and cigarette smoke odors. Here are the best bamboo charcoal bags for air purification and dehumidification from the testing we did.
AirJoi Air Purifying Bags
Ok, so the king of activated charcoal bag game is Airjoi, right? At least according to the marketing and the website from AirJoi it seems to be. So with all the hype around the AirJoi brand, many people are asking "So is AirJoi worth it?"
So after getting a 3-pack a few weeks ago, I have noticed a major difference in the kitten room we have set up in our spare bedroom to foster a new litter of kittens. As cute as these things are, they can get really smelly. So the test was on to see if using 3 AirJoi activated charcoal bags was up to snuff.
As with all activated charcoal bags, you need to 'activate' the charcoal by letting the bags sit in the sun for one hour. If you don't do this you won't notice any smell difference. This is the main reason why these bags sometimes get a bad rap from individual reviewers online.
So with the bags activated the test was on in the kitten room. After day 2 there was a noticeable difference around the room in general where the air smelled cleaner than it did before bringing the bags in. There was still a musty 'dirty cat' litter box smell but it was faint and did not hit you in the face like it was before.
So I 'activated' the charcoal again in the sun for another hour after the 2nd day and then did an official smell test after day 4. Not sure if I am just getting used to the kitten room smell after this many days or not but the room smelled fresh enough for being a kitten room.
So are these AirJoi Bags worth the higher price? Well, it just depends on the user as some people like to buy iPhones over Samsung phones. They both do the same thing, but one is higher priced based on the brand. That's basically what you are getting with the AirJoi brand of activated charcoal bags vs the other brands below.
Nature Fresh Bamboo Charcoal Air Purifying Bag Review
NIYIKOW Nature Fresh Bamboo Charcoal Air Purifying Bags (4 Pack x 200g), Charcoal Bags Odor Absorber, Moisture Absorber, Odor Eliminator for Home, Car, Closet, Pets, Basement
All-Natual Ingredient Odor Absorbe - Our charcoal air purifying bags use the highest quality bamboo charcoal from Southeast Asia — with NO harmful additives. 10 times better than regular charcoal as each natural air purifier bag contains activated charcoal from sustainable bamboo processed with high temperature oxygen-free carbonization. These bamboo bags are the best choice for clean air and odor removal.
Clean Air For Years - Each of the four charcoal air purification bags in the room weighs about 200g. Place the charcoal air freshener in the sunlight for at least once a month for 2 hours to rejuvenate the charcoal block's filtration capabilities and enjoy the best performance in the next few years!
4 Pack for Every Place - The bamboo charcoal particles have a larger specific surface area, which means our activated charcoal air purifiers bags have a stronger adsorption cleaning capacity. Our charcoal bags are designed for home, commercial, and travel use. Ideal to use in bedroom, closet, fridge, freezer, kitchen, basement, car, etc.
Eco-friendly & Long Lasting - Natural organic and chemical free odor absorbing bags have an anion charge and a porous structure. With that deodorizer bags eliminate odors instead of covering odor. These new household bamboo charcoal bags are packed in durable burlap bags with a reinforced metal hole for easy hanging. They're reusable, and with proper care, they'll last around two years which saves you time and money!
MONEY BACK GUARANTEE & USA CUSTOMER SERVICE - In the very unlikely event that you do not absolutely Love these bamboo charcoal bags, for any reason whatsoever, we'll refund you the full price NO QUESTIONS ASKED. So you can feel great knowing that you get to try it out completely risk FREE!
Deodorized and absorbed bad odors quickly
Great size – can be used in cars and homes
Lasts up to 2 years when refreshed regularly
What I liked about the Nature Fresh bamboo charcoal bag is that it had no scent at all, so it is a great choice for anyone suffering from allergies. This also makes them safe for improving air quality in homes with the many pets that we have.
The bags are designed with a small ringed hole to make it easy to place them in any corner of your house – whether you want to hang or just place them on a stool. I have put one in each of the closets in the house. Between myself and my wife, there are probably 30 pairs of shoes of various ages and after hanging the Nature Fresh Charcoal bags, there is hardly a scent of dirty shoes in the air. This is probably the best reason to use Nature Fresh Bags in your closet.
I also checked out reviews about this bamboo charcoal purifier bag before buying to try it, and this one caught my attention:
Amazing! So, I bought these after it was recommended to get rid of the dead animal smell. The smell was really bad. Until we figured out how to get the dead cat out I needed something to get rid of the smell. Turns out charcoal absorbs the odor and it did. Placed one on the floor and out of sight in the living room, dining room, and kitchen and within a couple of hours, the smell was gone.
wyewye Activated Bamboo Charcoal Bags for Car Closet Shoe Home Basement
Sale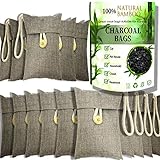 Charcoal bags Odor Absorber Activated Bamboo Charcoal Air Purifying Bag for Home Odor Eliminator Car Air Freshener for Closet Deodorizer Shoe Room Basement Litter Box Pet safe Bag 15Packs×100g
【GREAT VALUE PACK】Charcoal bags value pack provides 1.5kg of Activated charcoal. Each bag provides more absorbency than the standard 50g bags. Packed in a sealed linen bag with a ring on top for easy hanging on a hanger or hook. Sufficient size for cars, closets and other closed areas
【SUITABLE FOR FAMILIES】 Charcoal bags are made from environmentally friendly micro-porous activated bamboo charcoal, contains millions of tiny porous holes that can create a healthy atmosphere in your home.
【RECYCLABLE WITHOUT WASTE】These charcoal bags are reusable for 2 years! When this charcoal bag is saturated, in order to rejuvenate the bamboo charcoal bag, you need to place the charcoal bag outside in the sun once a month for at least two hours. You can reuse these charcoal bags without waste.
【EASY TO USE】 The bamboo charcoal sealed in our beautifully stitched linen bag, each bag size 6.5 inch * 3 inches, it can be easy hanging on a hanger or hook.you can put it on any area you want.
【ODOR ELIMINATOR】The bamboo charcoal has a larger specific surface area, which means our activated charcoal air purifiers bags have a stronger adsorption cleaning capacity. It Eliminates odor stronger and it is a pure natural product, so it is safer than other chemical products.
Have a ring on one top corner for easy hanging
Easy to rejuvenate in the sun (for 2 hours)
Safe for pets.
So I tested this in a fridge that had an awful smell since they are recommended for small spaces. The Wyewye charcoal bags worked really well as they deodorized the fridge really quickly; within 3 hours it was smelling fresh.
The bags have a lot more charcoal than most you'll find and I believe that's why they are very effective.
From my tests, I recommend using this activated bamboo charcoal air purifier for your car, closets, drawers, refrigerator, and even bathrooms. I'm not sure if they'll be great for large rooms.
Comfy Mate Bamboo Charcoal Air Purifying Bags Review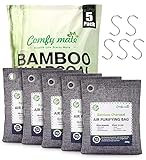 5 Pack Bamboo Charcoal Air Purifying Bags with Hooks,Charcoal Bags Odor Absorber for Home,Odor Eliminator,Closet Deodorizer, Car Air Freshener(5 Pack, 200g Each)
PACK OF 5 BAGS PLUS 4 FREE STEEL HOOKS - 5x200g The Purifying Bag have a breathable charcoal bag which makes adsorption more efficient,fills with bamboo charcoal that Remove unpleasant odors,makes home fresh.
THE ULTIMATE BAMBOO CHARCOAL CREATE DOUBLE ADSORPTION - Your ultimate choice charcoal bags are made from bamboo charcoal,you can use it anywhere such as a living room, car, wardrobe, refrigerator, bathroom, shoe cabinet, pet room, sports bag etc.ridding your home of persistent smells including cigarette smoke or pet odors.
PERFECT FOR ANY WHERE - The Charcoal Purifying Bag unlike other fresheners, it will continuously bring you fresh air.Perfect for whole family.
REUSABLE AND LONG LASTING LIVE FOR 2 YEARS - Comparing with other brands, our charcoal purifying bag can use about 2 years, Please recharge them under direct sunlight for two hours every month or more Frequently and can be reused up to two years.
USEFUL GIFT FOR YOUR FAMILY -- These breath green charcoal purifying bags are a best gift for your family or friends,Great for wedding, house warming, mother's day or birthday.
Clear odor from air really fast
Come with hooks
More charcoal in each bag – 200g
The Comfy Mate charcoal bag can look like an ornament or accessory in your wardrobe or car, but it really is effective and works really fast. So, I placed the bag in an area packed with dirty shoes, and amazingly, the odor was gone within an hour or two.
The bags were even able to get rid of odors from new furniture such that there wasn't any discomfort in the house within the first day of using them. I would recommend them as replacements for the chemical-laden scented aerosol sprays.
Products4Future Naturally Activated Bamboo Charcoal Air Purifying Bags
Sale
4 Pack of 200g Naturally Activated Bamboo Charcoal Air Purifying Bags | Natural Home Deodorizer Bags | Charcoal Bags Odor Absorber For Pets | Odor Eliminator & Moisture Absorber Air Freshener Bags
NATURALLY PURIFY YOUR LIVING SPACES - Remove odors from your home, office, garage, car, and anywhere else with our natural Moso bamboo charcoal bags. Forget those chemical-crammed air fresheners that fill your home and lungs with harmful chemicals. Enjoy clean, fresh air the natural way with our natural deodorizer bags! With each purchase, receive a bonus e-book featuring different tips and tricks to get the most out of your purifying bags.
POWERFUL AIR CLEANSING ACTION - The bamboo charcoal in our bags is 4 times better than regular charcoal as each natural air purifier bag contains activated charcoal from sustainable Moso bamboo processed with high temperature oxygen-free carbonization. Don't just mask those bad smells - eliminate odors and harmful air particles entirely with these bamboo charcoal bags odor absorber!
COMPLETELY ECO-FRIENDLY - By 'recharging' your bamboo charcoal bags for an hour in sunlight every month, each bag can give you up to 2 years of air-purifying action. After 2 years of use, the bamboo charcoal in our air purifying bags make a wonderful addition to your garden, helping plants absorb moisture and nutrients. This completes its lifecycle as a product that comes from the earth and ultimately gives back to the earth.
SAFE FOR YOUR FAMILY - These bamboo charcoal bags are 100% organic and chemical-free. This makes them ideal for homes with pets and young children. So ditch those dangerous regular air fresheners that contain harmful chemicals and choose an air purifying solution that gives your family a safe living environment instead. Get the peace of mind you desire!
100% MONEY-BACK GUARANTEE! – Don't worry about money, we are so convinced in our activated bamboo charcoal air purifying bags that if these natural odor eliminator bags don't live up to your expectations, please let us know. We will send you a replacement or refund. You take NO RISK when you purchase with us. But we're sure you'll fall in love with these eco friendly bamboo bags and probably want to order more!
Natural and recyclable air purification bags
Removed pet odor all over the house
Use the recommended Moso bamboo charcoal
Dry up air from excess humidity
The Products4Nature activated charcoal air purifiers are made from a type of bamboo called Moso. It is highly touted as the best for producing this kind of charcoal for indoor air cleaning.
So, I went and put them to test – removing pet odor from all over the house. 2 dogs and a cat play in the house a lot.
The bamboo charcoal air cleaning bags deodorized the house real quick and got rid of the obnoxious odor.
As a general conclusion and recommendation, bamboo charcoal air purifying bags do work and can clean and purify indoor air. For the best results, use the bags in small areas, or use more of them if the room is large.
How long do bamboo charcoal bags last?
A bamboo charcoal air purifying bag can last up to 2 years when being used to clean indoor air. After that, you can recharge the bag by placing it outside under direct sunlight for the toxins and odors to break down and dissipate into the atmosphere.
In a normal household without excessive pollutants like those you'd find near a construction site, bamboo charcoal air purifiers should remain effective at cleaning the air for at least 2 years or slightly longer.
However, if you start experiencing impurities such as allergens (e.g. mold spores in the air), you might want to replace the air purifier bag with one from the list of the best bamboo charcoal air purifier bags I tested and reviewed above.
Do bamboo charcoal bags remove dust?
Activated bamboo charcoal bags attract and remove dust from the air because they have a lot of tiny pores that create a large surface area for charged dust particles to stick onto.
If you're cleaning your house after a DIY remodel, it'd be a great idea to place these charcoal air purifying bags in various corners to remove drywall dust from indoor air.
In some air purifiers, the filters are laced with activated charcoal to make them more effective at trapping and filtering out dust particles from the air that passes through them.
However, not all air purifiers contain activated charcoal in their filters. For example, air purifiers that have washable filters do not contain activated charcoal because washing can damage the carbon's potency and reduce the air purification ability.
Resources
HVAC tech with over 30 years of experience. Retired and doing repair work on the side around Madison County, AL.
Share This Guide