Share This Guide
While your boiler should be the least of your worries, Its control board often malfunctions. We know it's a big hassle.
So you want to know about model 1013-200 troubleshooting?
Model 1013-200 troubleshooting includes fixing the continuous LED flashing. Sometimes this can be solved by adding a thermistor. While in other cases the temperature limit switch has to be replaced. Also adding a jumper if necessary, might help your cause. Or maybe even all of them.
But knowing just this much won't serve your cause. Rest assured, cause we have written a whole article to explain it properly.
How to Detect A Problematic Model 1013-200?
Model 1013-200 is a good control board. But when it goes out of order, it flashes its second LED as an indicator. And this same indication can point to a number of malfunctions around the boiler system.
Here are some of the possible problems this might indicate-
The resistor that replaces the temperature sensor (external) might be missing.
The boiler block temperature limit switch is failing.
The lack of a jumper (if there is no thermistor) might also be the problem.
Troubleshooting Model 1013-200
The flashing you encounter is the result of various other malfunctions. So we've tried to list out the most possible reasons for this inconvenience. Also, we have tried to provide a detailed guide for each solution to your problem.
Problem 1: Missing Thermistor
Missing temperature-sensitive resistors or thermistors is the most probable cause.
In a boiler, a thermistor works like a fuse. When faced with a certain temperature, the electrical resistance rises dramatically. For a boiler's return water this temperature is close to 240 F. Thus without these resistors, higher temperature water in the boiler could get by undetected.
Solution: Install Thermistor in the Boiler
There are different numbers and types of thermistors in different boilers. So installing them would be a different process. However, we have covered the guideline for some of the popular boiler models-
Replacing Thermistor in Backseat 600 and 800
Boilers like Backseat 600 and 800 have four thermistors each.
One is on the brass outlet hydro block (left hand). Then there are two clip-on thermistors. While one of them comes out from the heat exchanger to flow pipe. And the other one goes to the return pipe.
Since they are clip-on, you don't need a spanner to attach them. For the thermistors that are not clip-on, you'll need a 30 mm spanner to install them.
The other thing to consider here is the wires. In the first pipe, there is a red wire and in the return one, there is a blue wire. Be sure to clip them to a straight piece of copper.
Another one of the thermistors goes on the top left side of the bend. You would need a flue thermistor here. You would just need a simple quarter turn to install it.
Replacing Thermistor in Baxi Duotech
In the Baxi Duotech, there are three thermistors you'll need to install. 
One of them is the left-hand hydro block. You will need a wet pocket for here. While attaching the thermistor, make sure that the water is isolated. You will need a 13 mm spanner to attach it. Also, you will need a washer with it. 
Then there is the primary thermistor. It's a dry pocket one and you'll need a 30 mm spanner. You don't need a washer here because it has a white heatsink compound.
Finally, on top of the heat exchanger, there is a flue thermistor. Again, a quarter turn will get it going.
Replacing Thermistor in Baxi 105:
Baxi has only two thermistors. One has to be set in the left-hand hydra block. It is a hot water thermistor. It's a wet pocket that has to be set by a 13 mm spanner. 
The other is the central heating thermistor. It comes down from the flow pipe of the heating exchanger. Here also you'll need a 13 mm spanner.
Problem 2: Boiler Limit Control Switch Malfunction
The second reason for the continuous flashing is the faulty boiler limit control switch.
Now, what does boiler limit control do? The limit control ensures that your boiler doesn't become too warm. Basically, it works like a safety feature. This ensures that no damage comes to the components of the boiler.
So you can pretty much guess what will happen if it stops functioning properly. And this irregularity is the reason why the LED might be flashing continuously.
Solution: Install Temperature Limit Switch
How to install the limit switch in the boiler? Here is a guide made for you:
First, turn the boiler off and disconnect all the wires leading to the limit switch.
Now, label all the wires that were connected to the limit switch terminal. Cause you'll forget it. To do that you can make notes in a notebook using the color of the wires. Or, you can take a detailed picture of it.
Remove the screws from the limit switch to pull it out. Then, take the new limit switch and attach the wires to the terminal. Use the picture or note from earlier. Finally, just mount the screws in and you are all done.
Now that you know how to install a limit switch, we have some recommendations for you:
For a 5 Amps current rating the best option is MUZHI Limit Switch. (Check Price)
Another compatibility limit switch is TWTADE Limit Switch. (check price)
As an alternative, check out HiLetgo Limit Switch. (Check price).
We are sure these products will help you a great deal to solve your problem.
Problem 3: Lack of Jumper
Lastly, if you don't have a jumper along with your thermistor, you might face continuous flashing. So, let's discuss it.
As for the jumpers, they act like electrical connectors.
In absence of the thermistor, jumpers fulfill their duties. Like in a furnace if the R and O are not connected with a jumper then there will be no heating.
Solution: Add Wire Jumpers
There are different jumpers you can also use if needed. Basically, they are just one wire with two connecting sides. You can use mag jumpers, thermostat wires, and alligator jumpers.
Although, for thermostats with large head screws, it's recommended to use alligator jumpers. Here you don't have to remove the thermostat from the wall. But in some cases, you need to.
Like, you might need to disassemble the carrier Infinity thermostat from wall.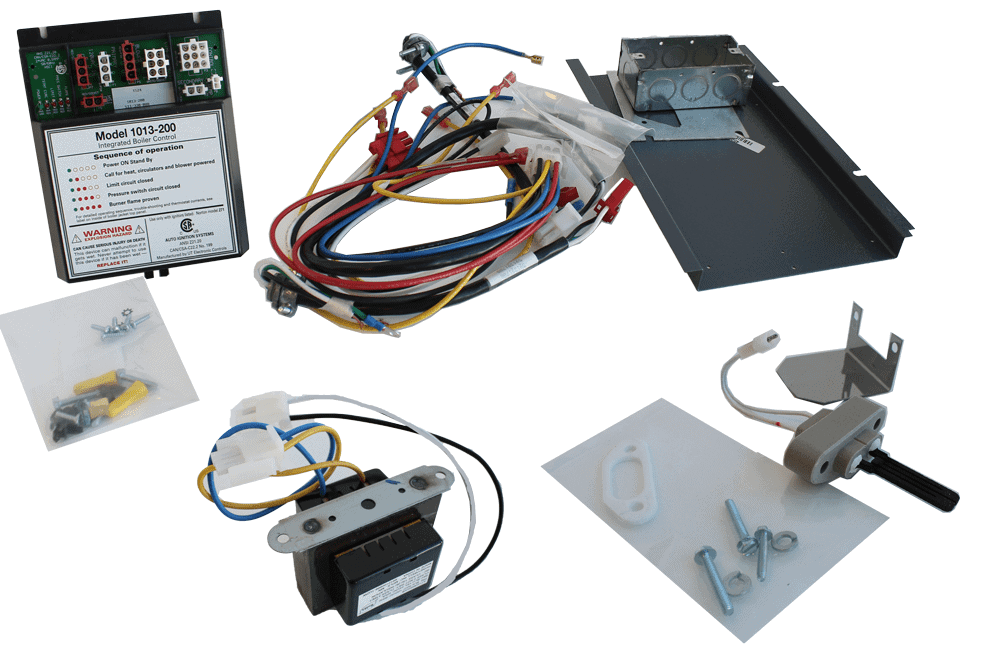 Frequently Asked Questions (FAQs)
How many parts does a boiler have?
There are mainly 5 key elements of a boiler. These include the combustion chamber, burner, heat exchanger, controls, and exhaust stack. There are also boiler accessories like flue gas economizer. It effectively recovers heat from the boiler. They worked together to establish a hydronic heating system.
What is the most significant part of a boiler?
The most significant part of a boiler is the safety valve. That is to say in a domestic hot water heating system. When a series of failures occur within a boiler system, it causes the internal pressure to rise. The safety valve ensures that this internal pressure is reduced from the boiler before any extra damages occur.
What is the steam temperature in boiler?
The steam temperature in boiler is 212 F (100 C). Although this is applicable to atmospheric pressure. The theory is water can be heated up to 100 C maximum. That is true in the boiler too. If more heat is introduced, The water just gets converted to steam. That too is also of the same temperature.
Bottom Line!
Were all your queries solved about model 1013-200 troubleshooting?
Here is an extra tip. We recommend setting boiler temperature to 82C and 65C in winter and summer respectively.
If there is something else on your mind, be sure to comment down below. Now we'd like to hear from you.
Until next time!

HVAC tech with over 30 years of experience. Retired and doing repair work on the side around Madison County, AL.
Share This Guide