If using an air conditioner is not an option, going for fans that blow cold air is the way to go.
These can generally be inexpensive compared to air conditioners and are more energy efficient.
But not all fans can create cold air, and that is why we came up with this article to help you pick only the best fan that can truly satisfy your needs.
While not all fans can create cold air, nearly all of them can blow cold air if the surrounding air is also cold. That said, no ordinary fans can create cold air like air conditioners. There are only fans with additional features that can make them create and blow cold air like conditioners.
These are the best fans that can blow cold air
Luma Comfort MF24B 24″ Oscillating Misting Fan
New Air Pedestrian Misting fan
Newair Evaporative Air Cooler and Portable Cooling Fan (Best portable)
Geek Aire misting Fan (Best portable)
OEMTOOLS 23980 24″ Oscillating Wall-Mount Misting Fan (Best wall mountable)
Hessaire MC37M Evaporative Cooler
hOmeLabs Evaporative Cooler
Honeywell Powerful Outdoor Portable Evaporative Cooler with Fan
Dyson Cool AM07 Air Multiplier Tower Fan (Does not create cold air)
Lasko Products Portable Electric 42″ Oscillating Tower Fan (does not create cold air)
What type of fans can blow cold air in hot weather?
Let's now look at the type of fans with features that make them capable of blowing cold air. These types of fans are
1. Misting fans
2. Evaporative coolers
In short, there are two types of fans that can 'blow cold' although we have added 2 more other fans that blow air well and can make you feel cooler.
10 Best Fans That Blow Cold Air and lower surrounding temperatures
The first eight fans below on our list can create and blow cold air, but we have added 2 more good fans to make a list of 10. The 9th and 10th fans on our list can still keep you cool without lowering the surrounding temperatures. Let's look at these fans in a little detail.
1) Luma Comfort MF24B 24″ Oscillating Misting Fan
The Lumia comfort is the ideal solution if you are looking for something that you can use both indoors and outdoor. This model can cool rooms or spaces up to 800 square feet and can lower surrounding temperatures between 30-45 degrees. While this is not the quietest fan on the market, the noise from its operation should not be a distraction to your normal conversation.
This model is ideal for your office, home, patio, or poolside; it's also equipped with a 1.7 lire water tank that can hold water for up to 5 hours.
Pros
Easy to install, the unit comes with clear instructions on how to install
Energy efficient compared to a traditional air conditioner
Cons
Non-weatherproof, during storms, you need to put it indoors
It doesn't come with a remote control
2) Newair 2800 CFM Pedestrian Misting fan
Sale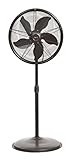 NewAir Outdoor Patio Misting Fan | 2-in-1 Outdoor Deck & Mister Fan | 5 Gentle Mist Nozzles | Outside Cooling Fan With 600 Square Foot Effective Range | Steel Construction
[TWO WAYS TO GET COOL] – The NewAir Outdoor Misting Fan gives you two great solutions for the price of one. Connect the fan to a standard garden hose for mist that evaporates on the breeze to cool your outdoor space, or let the tower fan oscillate on its own on humid days.
[2,800 CFMS OF POWER IN A CONVENIENT PACKAGE] – The 3-speed fan packs a punch with 2,800 CFMs of power on its highest setting. The whole system is a snap to assemble right out of the box, and you can easily adjust the angle of the fan and the oscillation path for customized comfort.
[WIDE-ANGLE OSCILLATION COOLS UP TO 600 SQUARE FEET] – The powerful metal fan blades maximize coverage to cool your entire outdoor entertainment area quickly and evenly. Feel the breeze everywhere as you cool large patios and decks up to 24 by 25 feet.
[SMART SAFETY FEATURES] – Adding water to your misting fan is perfectly safe, thanks to the integrated GFCI plug on the NewAir Outdoor Misting Fan. This allows you plug your fan into any standard outlet knowing that you're protected from accidents.
[CONNECTS EASILY TO STANDARD GARDEN HOSE] – With the NewAir Outdoor Misting Fan, there are no messy tanks to refill. Simply connect the pedestal fan to a standard garden hose to enjoy constant misting. The lightweight, portable design lets you place the fan right where you need it most.
Second on our list of the best fans that blow cold air is the New Air 2800CM misting fan. It's a powerful fan that has a provision for connecting the water supply to a regular hose. It is made of quality material and can lower surrounding temperatures by 10 degrees. With its 2800 CFM, it can cool up to 600 square feet of patio, deck, or outdoor kitchen space. If you are looking for a fan that can cool the surrounding, this is the ideal one.
Pros
Environment-friendly does not use chemicals like freon to cool your air
It's made with durable materials, including metallic blades
Manufactured by NEWAIR, one the most trusted brands
Cons
It is pricey
It doesn't come with a water tank
Only Suitable for use outdoor
3) Newair Evaporative Air Cooler and Portable Cooling Fan (Best portable)
Sale
Newair Evaporative Air Cooler and Portable Cooling Fan in Silver, Honeycomb Pad Cooling, 470 CFM, 1.45 Gallon Removable Water Tank, Remote Control and Timer, Cost Saving Cooling for Dry Climates
[CYCLONECIRCULATION] – CycloneCirculationTM technology keeps cold air moving, which creates a wind chill effect that feels even cooler on your skin than still air does. The enhanced oscillation and adjustable fan speeds cool any room quickly by pushing cool air from the pads to the farthest corner of your living area.
[ULTRA-CONVENIENT FEATURES] – The removable, 1.45-gallon water tank makes drip-free refills a snap while remote control lets you change the fan speed and settings at the touch of a button. Caster wheels help you move the air cooler with ease to any room.
[CONTEMPORARY DESIGN] – Comes in a sleek and modern design works beautifully in spaces where looks matter.
[PERFECT FOR DRY CLIMATES] – As the powerful fan pulls hot, dry air across the fibrous pad surface, water quickly turns from liquid into gas, providing a refreshing breeze. Want even faster cooling. Use the included ice packs in the ice tank for extra relief on the hottest days.
[ECO FRIENDLY COOLING] – Cool your home without any chemical coolants and naturally through evaporative cooling. An energy efficient swamp cooler is an eco-friendly alternative to air conditioners. You'll use far less energy each season, which saves you money and helps you tread more lightly on the earth. That's a win-win.
This model is a great fit especially if you are looking for a fan that can circulate the cold air in your while at the same time saving you on energy Bills. It comes with a 'portable' design to be easily maneuvered from one place to another.
It also features a contemporary design that can blend seamlessly with any décor.
The unit is suitable for use indoors and can provide a maximum of 470 CFM.
Pros:
It is lightweight and portable
Eco friendly technology, it doesn't use chemicals for cooling
Comes with a remote
Cons
Ideal for use only in dry regions
Suitable only for relatively smaller spaces
4) Geek Aire – (Best Portable Misting Fan with A Reservoir)
Sale
Geek Aire Battery Operated Fan, 20000mAh Detachable Battery Powered fan, Camping Fan with LED Light & Hook for Tent, Outdoor USB Portable Fan Rechargeable for Travel, Hurricane, Hiking, Jobsite, Yellow
【2X10000mah Battery Design】This portable fan is designed to provide convenience during your outdoor adventures. Our battery operated fan comes with 2 x 10000mAh rechargeable batteries that can be detached and used as power banks to charge other devices, such as smartphones or tablets. With this small but high capacity battery, this camping gear must haves features a high-quality rechargeable battery that provides long-lasting power.
【Fast Charging & Saving Time】You can charge two batteries simultaneously which saves time and ensures that you always have a fully charged backup battery. The batteries can be fully charged in as little as 4~5 hours, which is relatively fast than other outdoor camping tent fan. You will enjoy up to 86hrs or more if your batteries are fully charged. This camping gear is especially useful when you're away from a power source for an extended period.
【Stay Cool Wherever You Go】The battery powered fan is designed to produce a powerful airflow, With a powerful speed and an airflow rate of 2950 RFM, this beach fan makes it a highly effective tool for keeping you cool and comfortable during hot summer days or in stuffy indoor environments.The fan's powerful airflow, combined with its portable and cordless design, makes it an excellent camping accessories for outdoor activities such as camping, hiking, or picnic.
【Multifunctional for Outdoor/Indoor】The cordless camping fan is designed to be highly portable and versatile. With a convenient handle and a 360° hanging hook that makes it easy to carry or hang the fan wherever you need it. The fan also comes with three levels of LED light, which can be used to provide additional illumination in dark environments such as tents or cabins. This makes it a great tool for camping or for use during power outages or emergencies.
【Refresh Your Trip】Counter-clockwise the front cover, and drip your favorite essential oil to the cotton (NOT INCLUDED), and the rechargeable fan will blow the wind with fragrant air, letting you enjoy the pleasant air. Whether you're camping, hiking, or simply enjoying the great outdoors, this portable fan is a must-have for anyone who wants to stay comfortable and safe. With its powerful function, our camping tent fan will keep you comfortable on a camping trip, in a RV, or at a job site.
This is another powerful portable and rechargeable fan from Geek Aire which provides a maximum of 1500CFM airflow. If you are looking for a fan that can easily be moved from one place to another this is the right fan for you.
It is rechargeable and works with batteries meaning that it's also ideal for camping, where there is usually no power supply from the main grid. The batteries are detachable, allowing you to charge and carry extra batteries for prolonged use.
Pros
Come with a detachable water tank
Batteries can last up to 24 hours depending on the operating mode
Easy to assemble
Cons
·
5) OEMTOOLS 23980 24″ Oscillating Wall-Mount Misting Fan (Best wall mountable)
OEMTOOLS OEM24883 24″ Oscillating Wall Fan 6500 CFM Max Wall Mount Oscillating Fan, Large Industrial Fan Wall Mount Fans, Oscillating Garage Fans, Wall Mounted Shop Fans, Heavy Duty, 24 Inch
HIGH VOLUME AIRFLOW: This 24 inch commercial wall mount fan raises the bar for cooling power; Warehouse wall fan with 6500 CFM of airflow quickly cools indoor spaces
EASY TO ATTACH: A versatile commercial fan, wall mount anywhere with the included mounting bracket; Wall fan is ideal for increasing circulation in garages, job sites, greenhouses, gyms, and more
POWERFUL COOLING: Mountable fan features a 3 speed motor for dialing in airflow; With a maximum 74 dB sound level, this garage wall fan works best in larger spaces or when mounted in a high position
ENERGY EFFICIENT: Precision-balanced aluminum blades and cutting edge engineering make this wall mount garage fan energy efficient; Keep temperatures and utility costs down all summer
90 DEGREE OSCILLATION: Circulate fresh air indoors as the industrial wall fan covers a larger area; Keep your team refreshed and comfortable with 90-degree oscillation
Now, this is the perfect fit when you are talking of real power. It will provide a steady stream of air up to 7200 CFM.
If you are particular about creating space, you will find this model convenient for you. This is because it can easily be mounted on any standing wall, so it doesn't really take up much space, making it ideal for small homes or apartments.
And if you want more freedom of movement, it's equipped with an oscillating feature so that it can be adjusted vertically or horizontally to cover you regardless of your direction.
This fan will blow real cold air and will lower temperatures in a 1000 square feet space by 30 degrees. Lowering the surrounding temperatures by 30 degrees makes it work like air conditioners, which typically lower temperatures by 20 degrees.
Pros
High cooling power
Comes with a 180 degrees conciliating feature
Cons
Unit does not have a water tank
It's ideal for use outdoor
6) Hessaire MC37M Evaporative Cooler
Portable Swamp Coolers – 3100 CFM MC37M Evaporative Air Cooler with 3-Speed Fan – Water Cooler Fan 950 sq. ft. Coverage High Velocity Outdoor Cooling Fan Swamp Cooler by Hessaire – Gray
Experience Superior Cooling: Embrace the evaporative air cooler capabilities of the Hessaire 3,100 CFM! This portable swamp cooler combats heat and dryness while extending air coverage through its unique 3-panel intake system.
Transform Your Living Space: Adapt to any environment with portable evaporative cooler outdoor high velocity cooling fan. This cooler fan ensures continuous water flow for 3-4 hours of use, delivering excellent cooling and fits comfortably in any space.
Simplify Your Cooling Routine: Say goodbye to complex controls with our evaporative air cooler portable fan. This outdoor cooling fan's user-friendly design ensures easy operation. Just fill, plug, switch, and enjoy!
Enjoy Continuous, Quiet Cooling: Molded with a lightweight polypropylene resin, the Hessaire cooler with a 10.3-gallon tank reduces refills thanks to its 80% larger evaporation surface. Its delivery system reduces noise and vibrations for a serene area.
Cool Air Anywhere: As a trusted name in air-movement and cooling solutions since 1996, Hessaire focuses on innovation and energy efficiency and delivers reliable, low-noise evaporative air coolers that offer functionality without compromising quality.
This is a great choice if you do not want to go with the misting fans. And this is also ideal when you live in dry regions with low humidity.
This type of fan doesn't use chemicals for cooling but blows cold air into your space with the help of a wet filter. It draws hot air and passes it through a wet filter pad where evaporation takes place and blows the cold air into the surrounding air.
It can cool large spaces, providing up to 3, 100 Cubic Feet per Minute (CFM)
Pros
Features oscillating louvers to ensure even distribution of the cool air
Cons
Doesn't come with a remote control
Ideal for outdoor only
7)      hOmeLabs Evaporative Cooler
hOmelabs Portable Air Conditioner 12000 BTU – Cools Rooms up to 450 Sq. Ft. – Quiet AC Unit with Wheels, Washable Filter and Remote Control (New DOE 7200 BTU)
The hOmelabs 12000 BTU portable air conditioner (new DOE 7200 BTU) quietly and efficiently cools rooms with horizontal window openings measuring between 300 – 450 square feet
This portable AC unit measures 17.9 x 15 x 30.7 inches, includes wheels for smooth mobility, and is equipped with an automatic vertical swing function to evenly distribute airflow
To install, simply attach the included hose to its window slide adapter, plug the appliance in, and you're good to go (most customers are able to install the unit in 8 minutes or less)
Includes washable filter and filter indicator light that illuminates whenever cleaning is needed. Clean filter once every few weeks to ensure optimum cooling
Comes with remote control to set temperature, fan speed, cooling mode and sleep mode, and features a sleek and simple design to suit every home
Are you looking for an evaporator for indoor use? If so, then the hOmelables evaporator cooler is the best option. And, if you are particular about saving energy while cooling your space, you will love this evaporator fan. In addition, it comes with a built-in 10 liter water tank so you are sure to run this fan for long hours without having to refill it often.
It will cool rooms up to 200 square feet meters. Unlike any other ordinary fans, this model is equipped with a nylong air filter that ensures that the cold air that is blown into your living space is always clean and free of pet hair and dust
Pros
Comes with a remote control
Uses water to blow cold air (doesn't come with all those heavy stuff-like compressors)
Comes with a 24-hour programmable timer
Cons
  Need regular cleaning of the nylong (at least once a week) but this can easily be done by just sliding out the filter and washing it with mild detergent.
Mostly ideal for use in regions with low humidity like Arizona Colorado, New Mexico or the western part of the country.
8)      Honeywell Powerful Outdoor Portable Evaporative Cooler with Fan
This is another evaporator fan that blows real cold air. This evaporator cooler fan features 14-inch blades and is ideal for cooling open areas such as patios and BBQ areas etc. It can provide up to 1062 Cubic Feet Per Minute of air.
 It is also waterproof, so you don't need to move it in when a storm hits outside. And it's relatively quieter, with sound levels up to 62 decibels on the highest speed setting.
Pros
Has a Portable design
Features roller wheels
Cons
Ideal for use in dry regions (Ideally in regions that have less than 60% humidity)
Doesn't come with a remote control
9)     Dyson Cool AM07 Air Multiplier Tower Fan (doesn't create cold air but a great fan)
Sale
Dyson Cool AM07 Air Multiplier Tower Fan, FDS, Black/Nickel
Dyson fans use patented Air Multiplier technology to create a powerful stream of uninterrupted airflow without fast spinning blades making it safe for children, pets and during cleaning
2 year parts & labor warranty when purchased from an authorized reseller; Airflow at maximum setting 500 l/s
Dyson fans are quiet and powerful while being safe and easy to clean; Cord length: 6.6 feet
Features include sleep timer which can be programmed to turn off after preset intervals ranging from 15 minutes to nine hours
Remote control has the choice of 10 precise airflow settings; The remote is curved and magnetized to store neatly on the machine; Tested for filtration efficiency (EN1822) at 0.1 microns
We have added this unit because of its latest air multiplier technology which enables it to create uninterrupted air flow. This is a very powerful fan and is among the newest fan models on the market, but please note that this fan doesn't create cold air as the other fans we have looked at in this article. This is the best choice if you just want a very good fan with the latest tech specification.
However, you can set the temperature on heat mode but cannot set the temperature in cool mode.
It is a very quiet fan, and because it doesn't come with blades, it's safe for both kids and pets.
Pros
Comes with a remote control
Features 10 airflow settings
Comes with a remote
Cons
Doesn't blow cold air like the evaporator or misting fans
10)  Lasko Products Portable Electric 42″ Oscillating Tower Fan
Sale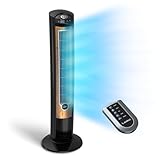 Lasko Oscillating Tower Fan, Remote Control, Ionizer, 3 Speeds, Timer, for Bedroom, Office, Kitchen 42″, Black, T42950
✅【POWER YOU CAN FEEL】The 48″ Lasko Tower Fan has 3-speeds to keep you cool all day and night. This tower fan is perfect for large rooms, bedrooms, and offices. The remote control features 5 buttons: on/off, timer, speed, oscillation, and ionizer setting
✅【BLADELESS DESIGN】With a slim, sturdy, bladeless design, the 42″ Lasko Wind Curve Tower Fan fits beautifully into your home and provides cooling comfort. This lightweight fan is easy to assemble, and the carry handle makes it simple to pick up and move
✅【AUTOMATIC TIMER AND IONIZER】The 42″ Lasko Wind Curve Tower Fan offers a 7.5-hour timer for easy on/off through the day or night. The fresh air ionizer option generates negative ions and disperses them to combat and dispel air pollution.
✅【OPTIMAL OSCILLATION】While other fans promote a full 90 degrees oscillation, we designed the 42″ Lasko Wind Curve Tower Fan with 60 degrees of oscillation to ensure you feel more of the breeze so you're not waiting longer for the fan to come back around
✅【SAFETY FIRST】This fan is ETL listed and is equipped with the Lasko trusted safety fuse technology; THE BLUE Plug is designed to cut off electric current to the fan if it detects a potentially hazardous electrical fault in the motor or power supply
If your ac does a really powerful job at circulating air, this Lasko oscillating fan is your solution. The unit can create an excellent airflow. It has 3-speed settings and is very quiet such that even on the highest setting, you shall still be able to hear from the TV.
Pros
Comes with a remote
Low cost
Cons
How Do Fans Make Us Feel Cool?
Traditional fans do not necessarily cool the air. The truth is fans can blow cold air when there is cold air around and will blow warm air when the surrounding air is warm air.
What makes us feel cool when a fan blow is an evaporative effect from the sweat on our skin. Even if you don't see the sweat on your skin with your naked eyes, there can be small droplets of sweat under your skin.
Different types of fans can cool differently by convection conduction and evaporation.
By convection. This is when heat is taken away from a surface by the current of the air. So, when you stand by the moving air as long as it's below 98 degrees, it will take away the heat. Nearly all fans cool by convection.
By conduction: conduction is when you come into contact with a conducting medium such as water. In a misting fan, tiny drops of water are cooler than your body temperature, and they will conduct their coolness to the area of the skin they touch. These tiny droplets of water are usually cool even on the hottest day because they tend to evaporate when they move through the air and cool before they touch your body, making you feel cooler.
By Evaporation. The swamp coolers cool the rooms by adding moisture to the air. They are energy efficient, and they don't add any chemicals to the air. They are a viable option for dry climate areas.

HVAC tech with over 30 years of experience. Retired and doing repair work on the side around Madison County, AL.