Share This Guide
Ozone generators are devices that emit ozone which is used for removing air pollutants. They simply disinfect the air by removing germs and odors. In some cases, ozone generators are also used in purifying water. Ozone generators kill mold but only when they produce ozone at unsafe levels for humans and other living creatures.
Ozone is capable of killing mold spores in the air. Still, household ozone generators are regulated to produce ozone at safe levels, which may not be sufficient to kill mold instantly on porous surfaces and those found in hidden areas. At safe levels, ozone doesn't kill mold or other organisms.
How do ozone generators work?
Ozone generators create ozone (O3) through the following methods:
1. Ultraviolet radiation
Ultraviolet radiation splits oxygen into individual atoms, which can then combine with oxygen (O2) to form ozone gas. This method is similar to how the sun's UV rays create ozone in the upper parts of the earth's atmosphere. This method is, however, quite inefficient and requires lots of UV radiation.
2. Silent corona discharge
Electrical discharges split oxygen molecules into individual oxygen atoms. The atoms then attach themselves to oxygen molecules (O2) to form ozone (O3). This process is much more efficient than UV radiation. In nature, electrical discharges such as lightning produce large amounts of ozone at once.
At high concentrations, ozone is very effective in attacking and killing mold, its spores, and mildew. The gas has abilities to deteriorate the cell structure of most microorganisms. When attached to the mold, ozone molecules stop them from multiplying and eventually eradicate them.
Some types of ionizing air purifiers emit ozone and also produce negatively charged ions that attract various forms of dust particles found in the air, including mold. Others also have a collecting plate where the heavy particles get collected. And those without a collecting plate, the heavy particles land on surfaces and are later cleaned out.
How Ozone Generators Kill Mold
In dealing with the menace of mold, you need first to remove all moisture content so that you can avoid mold growing back after cleaning your home. Ozone is a gas found in the upper atmosphere that protects us from harmful radiation.
It is essential, however, to note that when ozone is found near the earth's surfaces, it becomes harmful and causes skin cancer, and lung damage, among other health complications.
Ozone generators are regulated in terms of the amount of ozone gas they emit. The gas can effectively kill mold in large quantities than what is approved for use in homes. The more concentration, the more effective it becomes in killing mold spores.
Some ozone generators do not effectively kill mold and other biological pollutants because they emit a small amount of ozone gas. They mostly work by trapping the mold spores and making them heavy so that they settle on other surfaces and are later be cleaned up. They do not literally kill mold but just remove it from the air.
Further, ozone generators do not effectively kill mold from materials like air conditioning duct lining and ceiling tiles. This is because they mainly focus on airborne particles. Therefore, do not expect ozone generators to kill all the mold in your central air conditioner.
It is important to note that ozone generators do not kill mold entirely on their own; you need to clean the affected area with antimicrobial cleaners.
You can also use air purification systems that have the option to remove and kill mold such as these:
Bestseller No. 1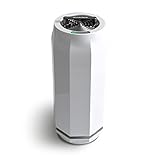 Sale
Bestseller No. 2
AROEVE Air Purifiers for Home, HEPA Air Purifiers Air Cleaner For Smoke Pollen Dander Hair Smell Portable Air Purifier with Sleep Mode Speed Control For Bedroom Office Living Room, MK01- White
Efficient Particle Filtration: The AROEVE air purifier utilizes a HEPA filter that can effectively filter out particles such as smoke, pollen, dander, hair, and more, potentially improving air quality and promoting better health and well-being for you.
High Circulation Rate: With dual-channel and 360-degree air inlets technology, the AROEVE air purifier refreshes the air per hour in rooms up to 215 ft² / 20 m², covering every corner of the room to promote better health for you.
Low Decibel Operation: The AROEVE air purifier operates quietly, especially when the sleep mode is activated, which reduces the fan speed to the lowest setting, effectively eliminating any noticeable sound. The filtered air noise is as low as 22 dB, making it ideal for creating a peaceful and relaxing indoor environment while still providing effective purification.
Bestseller No. 3
LEVOIT Air Purifiers for Home Large Room, Covers Up to 3175 Sq. Ft, Smart WiFi and PM2.5 Monitor, H13 True HEPA Filter Removes 99.97% Particles Dust Smoke Mold Pollen, Alexa Control, LAP-C601S-WUS
LEVOIT'S MOST POWERFUL AIR PURIFIER: A juggernaut at purifying your air in any room. It scans the tiny contaminants and uses enhanced technology to keep your air cleaner than ever, an easy solution for whole house purification
TESTED CADR FOR ULTRA-LARGE ROOMS: VortexAir Technology 3.0 enables the Core 600S to improve indoor air circulation and purify 635 ft² in 12 minutes or up to 3,175 ft² spaces in 60 minutes (CADR: 410 CFM / 697 m³/h). It's great for open floor plans and high-ceiling houses
H13 TRUE HEPA FILTRATION: 3-stage filtration, including an H13 True HEPA Filter with HEPASmart Technology, achieves a better purification effect than common HEPA filters of lower quality, capturing at least 99.97% of airborne particles 0.3 microns in size
How Long Does Ozone Take to Kill Mold? 
Mold spores can generally be killed by ozone in an average of 3 to 6 hours. This is, however, dependent on the concentration levels of the ozone. An estimate of 24 to 48 hours has also been proven effective.
With a high ozone concentration, it shall take a relatively shorter time for it to kill the mold and mold spores. The vice-versa is valid with low levels of ozone concentration.
It is also very important that you root out the cause of the mold before using ozone generators. This is important because ozone only kills the mold but does not eliminate it if the conditions favor its growth.
Before using the ozone generators, the removal and clean-up of mold should first be carried out. Ozone generators mainly concentrate on airborne mold spores. This implies that it is a clean-up process preceded by other cleaning forms.
Can you be in a House with an Ozone Machine? 
The safety of the ozone machine mainly depends on how well you use it and the space in which you put it. It's not safe to be in the same room with an ozone machine since ozone gas is harmful to the health of animals, plants, and human beings.
We have pets that stay in our houses and like birds especially, they do not put up with large amounts of ozone. For human beings, when you breathe in ozone or be exposed to it, it causes lung and skin damage, among other health hazards. It is more harmful to young children with a developing immune system and to people with pre-existing medical conditions.
Since ozone disintegrates at a relatively fast rate, a maximum of 4 hours should be enough time before the occupants of the house can move into an area that had an ozone generator.
Another concern about not being in a house with an ozone machine is that ozone reacts differently to different materials. This has been proven when items like carpets are corroded due to exposure to ozone. Being in a place where the ozone machine is, therefore it is harmful.
How Long Does It Take for Ozone to Dissipate?
To dissipate is an irreversible reaction of an agent or a molecule to disappear. Therefore, our context means the time required for ozone gas to go away or become a different element altogether. After using an ozone generator device, you need to know how long it takes for ozone to dissipate so that the place is once again safe for habitation.
There is no specific time that we can conclusively say that ozone takes to dissipate. It largely depends on the concentration of the ozone gas. Ozone typically lasts for an estimated time of between 30 minutes to 4 hours. Here, the third oxygen atom breaks away from the other 2 oxygen atoms and forms safe and breathable oxygen.
If the ozone levels are highly concentrated, it shall take between 3 to 4 hours for ozone to dissipate. It is therefore recommended that you wait for 4 hours after switching off the ozone generator before you can return to that place where it was.
The type of ventilation you have also determined the dissipation time. A good ventilation system will mean that the ozone gas shall disperse faster than a poorly ventilated place. Temperature levels also determine the rate of dissipation. Warm temperatures break down ozone molecules faster than cold temperatures.
Final Thought
Mold and mildew are very harmful, and similarly is the ozone gas. It is essential if you explore other safe forms of mold remediation and mainly focus on preventing mold growth in your home. While you can use ozone to kill mold, using it within the public health standards isn't enough to kill mold.

HVAC tech with over 30 years of experience. Retired and doing repair work on the side around Madison County, AL.
Share This Guide