Share This Guide
Humidifiers can be a great benefit, especially for toddlers during the winter or if they have a cold. If you got a humidifier for your baby's room, you might ask yourself, where is the best place to put a humidifier in a baby's room?
The best place to place a humidifier in a baby's room is 3-4 feet from your baby's crib. This is to avoid excessive exposure to moisture emitted from it. It's also recommended to place the humidifier in the center of the room and above the floor (on a table or chair) to prevent the baby from reaching it and knocking it over.
If a humidifier is placed anywhere close to your baby's cribs, excess humidifier mist may dampen your baby's pillows, and bedding, creating a potential breeding ground for mold and bacteria.
With that in mind, placing a humidifier in the center of your baby's room will ensure that the moisture is evenly distributed throughout the room.
Here are some valuable tips when using a humidifier in a baby's room.
Don't place the humidifier too close to your baby's crib. Doing so could cause bacteria and mold to grow around the baby's beddings or stuffed animals, which is unsuitable for your baby.
Keep the humidifier out of reach of your babies (This is mainly for 2-year-olds that are curious and always want to investigate things.) If necessary, elevate it to a height by putting it on a dresser or chair your baby can't reach.
Ensure that the power codes are not reachable by toddlers. And, if anything, block the power cord with objects to the plug to make it unreachable by the baby.
What type of humidifier should you use in a baby's room?
Deciding to get a humidifier for your baby depends on a few things. Some parents put humidifiers in their babies' rooms only when they get sick, while others do so to prevent their toddlers from getting sick.
Cool-Mist Humidifier (For Babies six months old)
But suppose you want to put a humidifier in your baby's bedroom to add moisture and prevent dryness for your 'bundle of joy'. In that case, I recommend you consider using cool-mist humidifiers as these are safer and can save you on energy bills. This is one that I first used in my babies room:
Sale
AquaOasis™ Cool Mist Humidifier (2.2L Water Tank) Quiet Ultrasonic Humidifiers for Bedroom & Large room – Adjustable -360 Rotation Nozzle, Auto-Shut Off, Humidifiers for Babies Nursery & Whole House
IMMEDIATE DRY AIR RELIEF! Want to eliminate the suffering from the terrible effects of dry air? No need to struggle with cheap flimsy and leaky desk humidifiers. This quality ultrasonic humidifier is the one you're looking for. It pumps relief immediately and effectively! – Feel better in minutes!
OPERATES IN TOTAL SILENCE – SLEEP LIKE A BABY! No humming, whistling, or crackling as this durable Whole-House Humidifier steadily and efficiently dispenses the soothing cool mist you crave. SLEEP better, BREATHE better, LIVE better! You'll wish you found this years ago!
MULTIPLE MIST SETTINGS + 360 DEGREE ROTATING NOZZLE – This Humidifier was created with YOU in mind. Your environment, your needs, and your preferences! Designed with a super simple control dial and 360° rotating nozzle so that you can fully control and customize the mist output and mist flow direction. AUTOMATIC SHUT OFF- No need to babysit this Humidifier. We know you'll want to shut this off before the tank runs out… Rest assured you can SET IT AND FORGET IT!
2.2L LARGE WATER TANK – FILTER FREE- FEATURES A LIFTIME WARRENTY! Made with an impressive 2.2L super large water tank that keeps your Room-Humidifier right on chugging for over 24 hours on a single fill! Designed
FEATURES A LIFTIME WARRENTY! Made with an impressive 2.2L super large water tank that keeps your Room-Humidifier right on chugging for over 24 hours on a single fill!
Some benefits of using cool mist humidifiers in your baby's room include
Ultrasonic cool mist is also quieter, making it a good choice for babies (especially if you value sleep-through nights) as these humidifiers don't disturb your baby's sleep through the night.
Cool-mist humidifiers help to reduce congestion. In addition to that, they can be used with medication.
Warm-Mist Humidifier
Although warm-mist humidifiers are not recommended for babies, some parents find that their babies sleep better with them.
However, if you choose a warm-mist humidifier, keep it out of your child's reach. This is another one (which is warm and cool mist) we also have in the house but only use on occasion:
Steam Humidifiers
A more healthy way to keep your whole house at a recommended humidity level is to use a model that can handle larger areas. Steam humidifiers are great to place outside of a baby's room, like in a hallway or adjacent room, as this will keep the entire area safe and at the humidity you need.
This model is a great option for this need: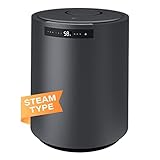 How to keep a humidifier clean and safe for your baby
Babies are very sensitive to health, so ensuring that your humidifier remains safe for use in a baby's room is every parent's number one priority.
 Cool-mist ultrasonic humidifiers work by creating ultra-fine water droplets by creating vibrations at sonic speeds. This means that bacteria or any other unwanted particles in the humidifier will also be emitted into the air. You can also use a dual-purpose machine that purifies the air in addition to being a humidifier.
To prevent that from happening, this is how to keep your humidifier clean.
1. Clean it often to remove any possible bacteria growth or white dust. This is because everything in the tank gets vaporized, and you don't want your baby breathing it.
2. It's best to use distilled or purified water when dealing with a cool-mist humidifier. That is because tap water has chlorine which contains irritants.
3. It's best to empty your humidifier tank each time you are not using it and carry out a thorough clean-up every 3rd -4th day. Regular clean-up prevents the growth of bacteria in your humidifier.
When should you use a humidifier for a baby?
If you are asking yourself whether or not you should use a humidifier for your baby, here are a few things to consider to help you decide.
It is necessary to use a humidifier if
You notice that your baby has dry skin.
Your baby seems always to have a cold.
You live in a region with harsh winter weather.
Your nursery is in an isolated location.
If your baby has trouble sleeping. (White noise from the humidifier can make your baby fall asleep easily)
FAQs
Does Baby Need Humidifier in Summer
A baby may need a humidifier in summer. A humidifier could benefit your baby in hot, dry regions. Just make sure to keep it clean to prevent the growth of slime or mold inside.
Is it OK to leave the humidifier on all night for the baby?
Yes, leaving the humidifier on all night for your baby is generally ok. But leave the door open or partly open to prevent too much moisture from building up and causing allergies from mold spores.
Share This Guide