Share This Guide
If you are dealing with an Ecobee not blowing cold air, then you are in the right place. There are several things that could prevent your Ecobee thermostat from blowing cold air, these include:
Thermostat settings
Malfunctioning Reverse Valve
Delay mode
Dirty air filters
Bad thermostat wiring
Incorrect System Configuration
Compressor threshold
Leaking refrigerant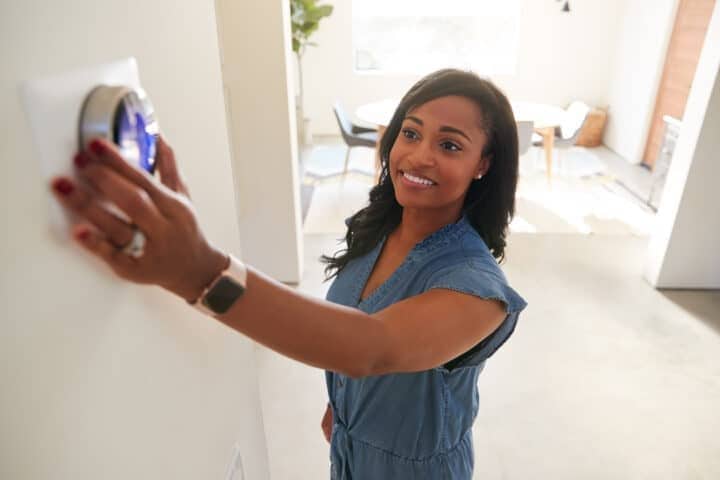 Read also: Ecobee Heating Instead of Cooling [Solved]
Reasons Why Your Ecobee is Not Blowing Cold Air 
While there could be so many reasons why your Ecobee thermostat is now blowing cold air, let's look at the 7 most common ones in detail below.
Sale
ecobee4 Smart Thermostat with Built-in Alexa, Room Sensor Included
SAVE MONEY: Homeowners save up to 23% annually on heating or cooling costs, plus ecobee pays for itself in under 2 years (compared to a hold of 72 degrees).
ROOM SENSORS: Place them in the rooms that matter the most and have the temperature balanced throughout your whole home. Measuring both occupancy and temperature, sensors signal your ecobee Smart Thermostat to automatically switch to the right mode for comfort when you're home or for savings when you're not. One Room Sensor included, 2-pack sold separately
EASILY INSTALL YOURSELF: It only takes about 30 minutes, thanks to an easy to follow installation guide and an in-app step-by-step walkthrough. Everything you need comes in the box, including a Power Extender Kit for homes with no common wire (C-wire). Compatibility- Gas, oil, electric, dual fuel, Conventional (2H/2C), Heat Pump (4H/2C), Humidifier, Dehumidifier, Ventilator, HRV or ERV
CONTROL FROM ANYWHERE: Easily adjust your thermostat from wherever you are using your iOS (iPhone, iPad, Apple Watch) or Android device. The ecobee mobile app is available in the App Store or on Google Play. Works with: Apple Homekit, Amazon Alexa, Samsung SmartThings, IFTTT and more.
BUILT-IN ALEXA: Control your thermostat using your voice with built-in Alexa. Ask to play music, hear the news, set a timer, adjust the temperature, and so much more. Wifi connectivity is ieee 802.11 b/g/n at 2.4 GHz. Tip-make sure your HVAC panel is fully closed. Some systems will not turn on if the cover panel has not been closed properly.Voltage Type:Line Voltage
1) Thermostat Settings
When you notice that your Ecobee is not blowing or cooling, the first thing you want to do is check whether your thermostat settings are in order.
Ensure that your thermostat is set to cooling mode and the temperature is set below your current room temperature reading. If you have done and the problem doesn't go away, then your reverse valve might be malfunctioning.
Wrong Fan setting.
Another common thing that could make your Ecobee not to blow cold air is your fan settings.
Double-check your thermostat and ensure that your fan is set to auto and not to 'on.' If your fan is set to on, it will continue to blow air when your air conditioner is not cooling. This could explain why the air that's blowing out of vents is not cool. 
If your fan is set to auto but your Ecobee does not start blowing cold air, then your thermostat might be in delay mode. Not too sure what delay mode is? Don't worry in the next section I'll explain what it is and how it protects your equipment.
2) Malfunctioning Reverse Valve
If you are using a heat pump, it typically should have a reverse valve. This valve enables your heater to work as an air conditioner and as a heater.
Depending on the mode of your Ecobee thermostat, switching between cooling and heating can be done from either your thermostat or your app.
However sometimes, you might notice that even after switching from heating to cooling, your thermostat is not cooling, this could be a result of a reverse valve stuck in the heating opposition.
Though rare, it does happen more often than thought. And it can be attributed to an aging HVAC system. So, if your system has been around for many years, you might need a professional to come and take a look at it.
3) Delay mode
Do you see your Ecobee screen displaying something like 'cool one'? When your system is recovering from a sudden power outage or if you turned it off and on too quickly, it could automatically go into delay mode.
Delay mode deliberately prevents you HVAC system from coming on after you turn it on your thermostat. This is to prevent your HAVC system in particular your compressor from short cycling and potential damage.
It should be noted however that delay mode doesn't take more than 5 minutes. If 5 minutes elapses and cold air doesn't start blowing in, then there could probably be other issues with your system. And that, most likely been a dirty filter.
Doesn't sound really sensible for a dirty filter to prevent your Ecobee from cooling, right? Don't worry I am going to explain about how an air filter keeps your HVAC working properly and efficiently.
4) Dirty Air Filters
A dirty air filter is a common reason for your Ecobee not blowing cold air.
Filters are responsible for screening out dirt from the air before it gets into your indoor air handler. This ensures that: 
 Only clean air comes into contact with the evaporator coils and no dirt is deposited on your coils. 
 Air that is blown into your home has fewer unwanted particles, especially if you keep pets and there are people with allergies at your home. 
However, if filters are dirty, they will restrict airflow to your coils (found in the air handler). When filters are dirty:
Only a little air will be cooled, and that's why you might not have cooling in your home. 
When a filter becomes dirty and gets clogged, dirty air will bypass it and find its way to your system's coils and your home. Because of that, dirt will be deposited on the coils, and they will have build-up on them. 
When dirt builds up on the coils, this will make it hard for the coils to absorb heat from your indoor air. If less heat is absorbed that will mean no proper cooling for your home and that could be the reason for no cold air blowing out of the vents. 
Solutions
If your Ecobee is not cooling or blowing cold air, you should check on the status of your filters. Find out whether they are dirty or not. Newer systems have check filter lights that will indicate whether your filter is dirty or due for replacing or cleaning depending on the number of hours they have served.
While others don't have this feature, it's always best to replace or change your air filters once in a couple of months. 
Anyway, the bottom line is, if your filters are dirt or they have the color of mud, you surely need to clean or replace them.
TIP: Take note of the size of your filter before ordering a new one.
If you think your filters are clean and are not a problem, then the problem of your Ecobee not cooling could be due to a bad thermostat wiring.
In the next section let's look at how bad thermostat wiring can affect how your HVAC system cools your home.
Also read: How To Reset Ecobee Without Access Code
5) Bad Thermostat Wiring
A bad thermostat wiring is a common reason your Ecobee is not blowing cold air. Did you recently change or upgrade your thermostat? If so, you will definitely want to double-check your thermostat wiring. 
How to check an Ecobee thermostat wiring 
Firstly, pull off your thermostat from the wall and ensure that that Y1 terminal has a wire connecting it. Also, check that it's securely connected. The Y1 terminal wire is responsible for engaging your compressor in the outdoor unit.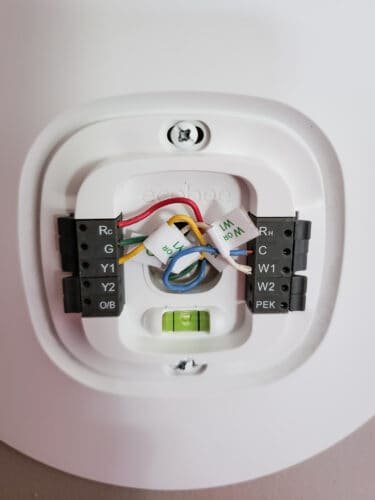 If Y1 terminal is not connected, your compressor cannot run to cool your home. And If the wiring at your thermostat looks great, head over to the terminal block of your furnace or air handler to verify that the Y terminal has a wire connecting to it from the Y1 terminal of your Ecobee.
If you are using a PEK (power extension kit) ensure that the wire connecting to your thermostat's Y1 terminal is also connecting to the Y terminal of the PEK. And that the wire coming of the PEK's Y terminal is connected to the Y terminal of the control panel of your thermostat. 
How to check the wiring on the control board 
On the terminal block of the control panel (at your air handler unit) lookout for two wires coming from the compressor. That is, the Y and the C wire, are typically bundled separate from those coming from the thermostat. If these two wires are not firmly or securely connected, the compressor will not engage. 
6) Incorrect System Configuration
If nothing is working after checking out with all the above tips, verify that your system has been correctly configured on your system. To check the system configurations, go to
MAIN MENU —> SETTINGS —> INSTALLATION SETTINGS —> EQUIPMENT —> WIRING
This though will only be useful if you don't have a PEK installed. 
Under 'wiring' setting on your thermostat, can you see the Y1 highlighted? If it's not highlighted, then it is not connected, and you'll need to reconfigure your system.
To reconfigure your system, go to:
MAIN MENU —-> SETTINGS —> INSTALLATION SETTINGS —> EQUIPMENT— > RECONFIGURE EQUIPMENT
You'll see a message that will ask you if there is only one wire connecting to the RC and not the Rh terminal.
If you only have a wire connecting to RC and not Rh, selected the choice given as in the image below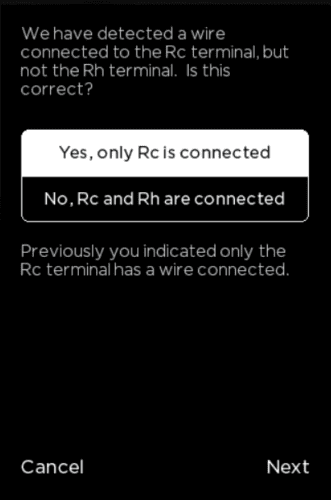 But if both wires the RH and the RC are connected, then select the second choice 'No, RC and RH are connected' and shown in the diagram below.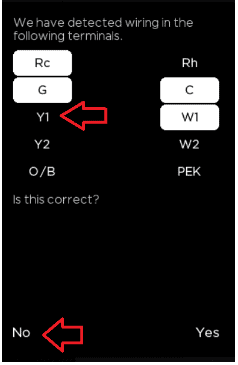 Usually when you have separate wires connected the RH and the RC terminal then, you have separate systems for heating, typically a boiler and an air conditioner.
The next screen will show you different detected wires connected to your system. If the Y1 wire is connected great. But it's not connected, you'll need to manually select it and continue with the instructions that follow until you have fully reconfigured your system.
7) Compressor Threshold
Other times compress threshold settings might be preventing your compressor to kick in and cool your air.  
Read Also: Does The Outside AC Fan Always Run?
To check or change threshold settings on your Ecobee, follow these steps:
MAIN MENU —> SETTINGS –> INSTALLATION SETTINGS –> THRESHOLDS
On compressor minimum outdoor temperature, the compressor will not start if the minimum outdoor temperature is not reached.
Check the compressor minimum cycle off time. This is the minimum amount of time the compressor breaks between cycles.
8) Leaking Refrigerant
Leaking freon can result in your Ecobee not cooling your home. Freon is a refrigerant commonly used in air conditioning systems. It absorbs heat by passing through the evaporator coil from one environment and releases in the other environment.
If there are leaks within your system, this refrigerant can leak out and your system won't cool your indoor air. Leaking freon could be another reason your Ecobee is not blowing cold air.
This problem can best be fixed by a professional. If you think you have a leaking refrigerant, it's best to call in your local HVAC experts. 
Final Thought
Now that you have learned common reasons for your Ecobee not blowing cold air, we hope you have solved the problem. If this problem doesn't go away with our guide, it will be best that you contact Ecobee support of call your local HVAC repair services. Thank you for reading. 
More resources:
https://www.youtube.com/watch?v=g-JX5jCzSH4
https://support.ecobee.com/s/articles/My-air-conditioning-won-t-turn-on-How-can-I-troubleshoot

HVAC tech with over 30 years of experience. Retired and doing repair work on the side around Madison County, AL.
Share This Guide