Share This Guide
The summer season in recent years is only getting hotter. An air conditioner can save you when the outside temp gets unbearable. There are many deciding factors that you need to be aware of between a 3-Ton AC to a 4-ton AC.
3-ton AC could be small for many houses, while a 4-ton or bigger-sized could be overkill.
So, what's the right choice between 3 vs. 3.5-ton vs. 4-ton air conditioners?
Between a 3, 3.5, and 4-ton air conditioner, a 3-ton AC removes 36,000 BTUs of air per hour. It's suitable for houses with an area space of 1,800 sq. ft. A 3.5-ton AC has 42,000 BTUs/hr, and it's ideal for a 2,100 sq. ft. area space. A 4-ton AC has 48,000 BTUs per hour. An area space of 2,400 sq. ft. would be perfect for a 4-ton AC.
Curious to know more? Please enjoy my guide and ask any questions you have at the bottom in the comments section.
Quick Comparison: 3 Vs. 3.5 Ton Vs. 4 Ton Air Conditioner
Before going to the main discussion, look at the table below. Here we've charted out some key differences among the air conditioner units.
| | | | |
| --- | --- | --- | --- |
| Aspect | 3-Ton AC | 3.5-Ton AC | 4-Ton AC |
| BTU unit | 36,000 BTUs | 42,000 BTUs | 48,000 BTUs |
| Colder climate coverage (sq. ft.) | 1,800 sq. ft. | 2,100 sq. ft. | 2,400 sq. ft. |
| Moderate climate coverage (sq. ft.) | 1,400 sq. ft. | 1,680 sq. ft. | 1,920 sq. ft. |
| Warmer climate coverage (sq. ft.) | 1,200 sq. ft. | 1,400 sq. ft. | 1,600 sq. ft. |
| Cost | Cheap | Moderate | Costly |
| Recommended Model | Goodman AC 3 Ton 14 SEER | Goodman 3.5 Ton 16 SEER AC GSX160421 | Cooper & Hunter 60,000 BTU |
Need some explanation? Then we invite you to our next section.
Detailed Comparison: 3 Vs. 3.5 Ton Vs. 4 Ton Air Conditioner
An air conditioner is a basic necessity of a house's HVAC system. But picking one for your home isn't an easy task. Unless you're using the right AC size.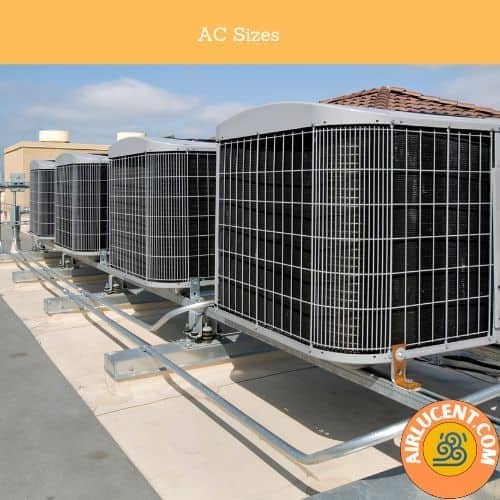 Choosing the right-sized air conditioner for your home depends on a few conditions. Earlier, you've seen the short comparison among 3, 3.5, and 4-ton air conditioners.
Now, let's try to understand the details of these differences.
AC Size Difference
Air conditioner sizes are indicated by tonnage. When we hear ton, we immediately think it refers to the AC weight. But air conditioner tonnage refers to its sizing and not weight.
It also refers to how much heat air conditioning removes from a given space. The standard amount is calculated in BTUs per hour. The bigger the size of the air conditioner is the more heat it removes.
Generally, a 1-ton air conditioner unit can remove 12,000 BTUs of air per hour. A 3-ton AC unit can remove (3×12,000)=36,000 BTUs of air per hour.
Similarly, 3.5-ton AC removes (3.5×12,000)=42,000 BTUs of air per hour. Lastly, 4-ton air conditioners can remove (4×12,000)=48,000 BTUs of air per hour.
So, comparing these three air conditioner sizes, a 4-ton ac removes most heat. And a 3-ton air conditioner removes the least amount. Their sequential order would be 4-ton>3.5-ton>3-ton air conditioners.
Summary: 4 tons is the largest AC followed by 3.5 tons and 3 tons.
AC Capacity Options
The capacity of an air conditioner unit is directly related to its size. The bigger the size is, the more capacity it has to cool down your house. But bigger doesn't always mean better.
Regarding air conditioners, their sizing must be strictly maintained, just like it's important to know the furnace blower motor size you need.
So, how do we know what size air conditioning unit to buy? We calculate it with the area space of your house. A 1-ton AC can cool down (1 ton/0.0016 ton per sq. ft.)= 625 sq. ft.
Similarly, a 3-ton AC can cool down (3/0.0016)=1,875 sq. ft. space. Lastly, a 4-ton AC cools down (4/0.0016)=2,500 sq. ft. area.
If your house is between nearly 1,800 sq. ft., you'll need a 3-ton AC. If it's near 2,100 sq. ft., you'll require a 3.5-ton AC. For area space closer to 2,400 sq. ft. a 4-ton AC will suffice.
Now, you may see many people giving you different answers. This calculation is related to the climate zone you live in. Depending on the area's climate, you'll need a different-sized air conditioner.
For example, in warmer climate areas, the requirement would be 30 BTUs per sq. ft. if the temperature is moderate, then the requirement is 25 BTUs per sq. ft.
For the colder climate zone, it's 20 BTUs per sq. ft. That's a lot of difference when calculating the whole house area. So, you must calculate the size ac unit based on these factors.
However, covering a space with AC alone will spike the overall cost. To prevent this from happening, you need to invest in some programmable thermostats.
Programmable thermostats maintain an overall temperature. So your AC doesn't have to do all the heavy lifting.
Here are some thermostats that I've personally tried and loved:
So, it's high time to invest in some good quality thermostats.
Summary: It should be obvious, but a 3.5-ton AC can cover more area than 3-ton. And a 4-ton AC can cover even more than a 3.5-ton AC. Plus, using a new thermostat will give you optimal results in any size you go with.
AC Size Cost
The pricing of AC units varies depending on their size, type, brand, and SEER rating. Let's take a look at the pricing chart below-
| | | |
| --- | --- | --- |
| AC Unit Size | AC & Coil Cost | AC & Coil Installation Cost |
| 3-Ton | $1,970-$2,250 | $3,690-$3,800 |
| 3.5-Ton | $2,380-$2,550 | $3,750-$4,000 |
| 4-Ton | $2,560-$2,700 | $3,950-$4,200 |
The cost of an air conditioner unit comes with the installation price. But that's not all. You may have to pay other costs as well. For example-
Vents
Ducts
Joints
Permit
Insulation
Fan
Vent filters
A 3.5-ton air conditioner unit will cost more than a 3-ton AC. Similarly, 4-ton AC will cost higher than a 3.5-ton AC unit. The table above shows an estimated cost range for the AC units.
But the price will vary depending on which brand's air conditioner you pick. This goes for the air conditioner unit type as well. For example, a 4-ton unit from Bosch typically costs more than a 4-ton unit from Goodman.
One more cost you may face is additional utility bills. Clogged air filters cause your AC to work extra hard. As a result, your AC consumes too much current.
To avoid this additional cost, change your air filters occasionally. Always check if the filters on your AC are clogged or not.
You can clean clogged filters for the most part. However, if the filter is clogged beyond saving, get new filters. Filters are relatively cheap.
You can find good quality air conditioner filters on amazon as well. Here are some that I've used and loved:
So, you can easily reduce the cost of utility bills by taking care of clogged air filters.
Final Verdict: 3 Vs. 3.5 Ton Vs. 4 Ton Air Conditioners
The ultimate decision of picking the right AC comes down to your preferences. With that being said, here's a table for you that summarises the whole debate in short:
| | |
| --- | --- |
| Air Conditioner Units | Features |
| 3 ton | Affordable and perfect for smaller spaces |
| 3.5 ton | The perfect in-between size that works well in medium-sized spaces |
| 4 ton | Expensive but ideal for larger spaces |
So which one of these air conditioner sizes is the best? Is there any extra advantage to any of these sizes? There's one. Bigger-sized air conditioner units will cool down your house faster.
So should we buy bigger-sized air conditioners? Not just for that reason. Buying a bigger AC unit causes many issues, as seen in this video.
The price of the AC unit and the installation cost would be high. Especially if the cost of return duct for 3.5, 4, 5-ton ac is added. The electricity bill would be higher, and the air quality may not be what you want.
More importantly, the humidity level in your house will rise. This will cause mold on walls and wooden furniture to go bad.
Similarly, you can't get a smaller-sized air conditioner unit. Some brands may try to sell downsized AC units at a lower price to get a sale. But a downsized air conditioner won't be able to keep your house cool.
You'll have to run it continuously, making a hefty electricity bill. The lifespan of the air conditioner unit will also be shorter.
So, there's no winner here. For houses about (1,550-1,800) sq. ft. big a 3-ton AC is generally used. For (1,850-2,100) sq. ft. 3.5 ton AC is proper. A 4-ton AC is perfect for houses between (2,150-2,400) sq. ft. area range.
But make sure you're taking your climate zone into count. It's essential.
FAQs
What's the difference between split and window AC?
Window ACs are for a single small-sized room. It is portable and has all the elements inside a single box. Split AC is for bigger rooms because they have high cooling capacity. It has two separate units. One is the indoor unit and the other is the outdoor unit.
What's the energy efficiency ratio?
The energy efficiency ratio (EER) determines how much cooling power AC gives from electrical energy. It's also known as an energy efficiency rating and is calculated in the BTU unit. It works with the ratio between the energy input and output.
What is a dual-fuel air conditioner?
Dual fuel-air conditioners are quite similar to the central AC. it utilizes the coils inside the indoor furnace. The main difference is that it follows heat pump technology. That's why it has a lower cost. It's more suitable for cold climate zone.
Conclusion
That was all about 3 vs 3.5 ton vs 4 ton air conditioner. Hopefully, now it's clear to you which one of them you need to pick. If you're still in doubt, then discuss it with an HVAC professional first.
It's wiser to check before buying your AC unit. After all, HVAC units are anything but cheap.
Let me know if you have any questions in the comment section below.

HVAC tech with over 30 years of experience. Retired and doing repair work on the side around Madison County, AL.
Share This Guide